Page of Pentacles | Baking | Focaccia di Recco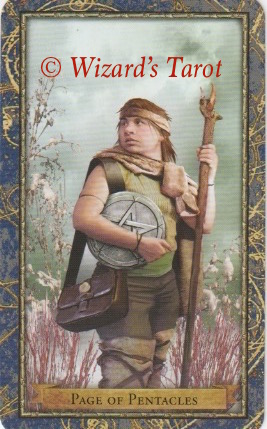 Page of Pentacles
on his way to Masterchef
It doesn't matter what age you are, we are all Pages at something or other. The Tarot deck's Pages show us in our tentative first steps, those beginner steps at anything: those moments where you wobble uncertainly forwards, sometimes falling – but always getting back up again.
The Page of Pentacles shows us the beginner in practical matters.
I am definitely this Page when it comes to cooking.  Most efforts turn out to be only fit for the inside of the swing bin – except my lasagna. My lasagna is TO DIE FOR.  Well, hopefully not DIE …. but you get the general idea. 
Having a FAB lasagna is is a cause for congratulations and back-slapping if you are under the age of 16, but not pushing 52. At 52 I should be mastering choux pastry or learning to stuff my own sausages…. hell, at this age I should be butchering my own venison with nary an eyelash bat.
Truthfully,  I don't really cook ….. I seem to assemble miscellaneous things on plates. In much the same way as Celebrity Masterchef contestants do:
*mimics sexy TV voice-over lady*  'Alison's dish is a lightly spiced Scotch pie, served on a stack of freshly defrosted and gently cooked oven chips, with a warmed jus of baked beans.'
For reference purposes:  A Scotch pie: pic, Wikipedia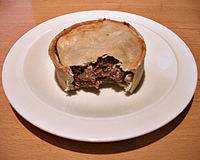 Same Pie, partially eaten: Unbelievably, also Wikipedia
Anyway, the more stalwart readers amongst you will recall that I went to Italy in April.
Nope, that is NEVER going to get old.
SORRY… *whispers: not sorry*
We went to Bergamo. Bergamo old town perches on its medieval haunches on a hilltop and looks out across the shimmering miles of the new city beneath it.  It's sort of like Westeros.  Without the incest.
After our merry band of Tarot travellers had soaked up all the info about alchemical symbolism in Bergamo Cathedral, we then got down to the serious business of the day: what we would eat for lunch.
After wandering through the narrow streets and checking menus, we stumbled onto a little piazza with a restaurant and open air seating. The shaded tables looked most inviting.
I chose Focaccia di Recco. – by pointing randomly at the menu and selecting whatever my finger landed on (I like a bit of a gamble where food is concerned and, let's face it, in Italy you are never going to get something dreadful.  Like turkey gizzards.  But that was France and a whole 'nother story ….)
It was completely delicious – thin bread stuffed to oozing point with cheese, liberally topped with scrolls of soft, cured ham, pink and delicate as ballet ribbons.  It was so delicious that our group's vegetarian, Lara, made me hide it behind the bread basket so that she couldn't see me getting tucked in about it with raptor-like gusto.
Another of our party, Tero, took a photo of it: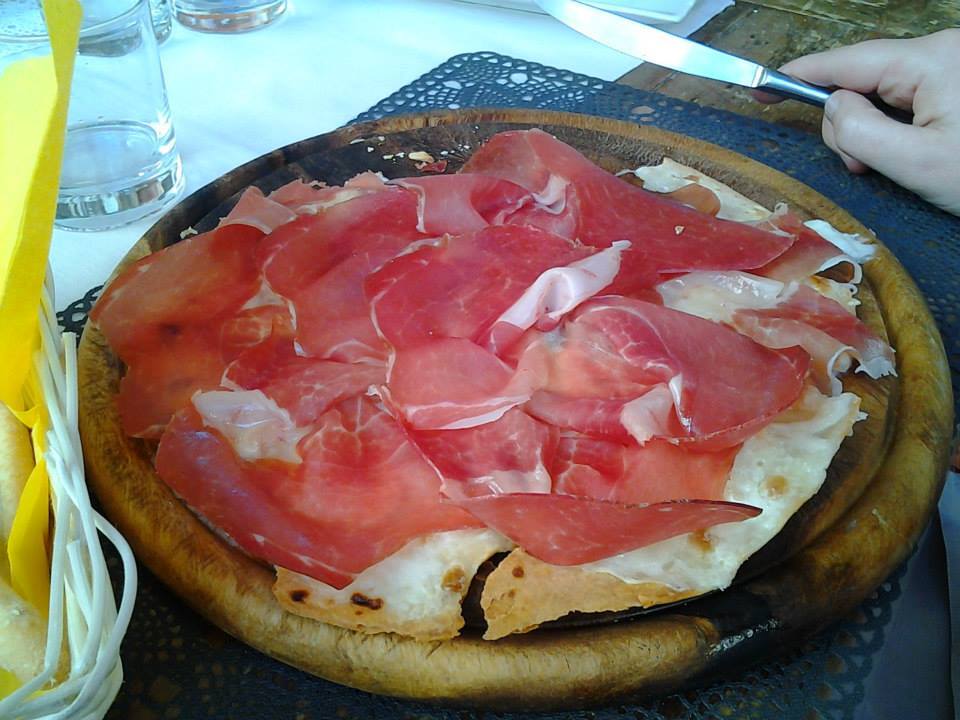 Vegetarians might want to avert their gaze…
© Tero Hynanyn
Now here I am, home in the grey wetness of a Scottish summer, and I have  discovered that Focaccia di Recco is "incredibly easy to make" according to the various videos on youtube, so with my best Page of Pentacles attitude, I set to it:
This is where it all starts to get uber-confusing …
The recipe I used called for 'all purpose flour'. Which I mistakenly thought was self-raising – which I had none.  But I used plain flour instead (which is actually what 'all purpose flour IS). Stracchino is an Italian cheese which, amazingly, you cannot get in the local co-op.  I used a soft brie-like thing instead.
I made two and popped them into the oven at the same time…
The result was …… something that would make your gums bleed.  The cheese basically 'boiled off' in the oven, leaving a rock hard (but tasty) residue.
I know, photos would have been good.  But I was IN the moment.My Page of Wands and King of Pentacles looked at my offering and dolefully and dutifully bit into a slice. Which immediately shattered into a million pieces, like glass.
The swing bin was the recipient of that.
Next attempt:
I had SELF-RAISING flour.  Which is actually the WRONG flour, but which I thought was the CORRECT flour. Do keep up. I did not put both in the oven at the same time. I tried mozzarella cheese instead.
It did not work.  The dough, so obliging the first time that I made it (note to self:  well yes, the first time I made it I was using the CORRECT flour).  With self-raising flour it was constantly ripping under the weight of itself as I worked it into the thickness of a gnats foreskin.  I patched it and hoped for the best.
I put in the mozzarella and carefully laid the other fine layer of focaccia on top.
Reader, it didn't even make it to the table.  The cheese had made the bottom layer so soft it was like eating the raw dough.  Vile.
SWING BIN!!
In true Page of Pentacles let-me-try-that-again I kept half the remaining half dough mixture for another attempt.  But I can tell by the hunted look in the Page of Wands' eyes that it better not be any time soon…I take comfort from the knowledge that the Pages show a BEGINNING, although Lord knows what culinary hell I'll put my family through by the time I get to Knight stage!