Alexander Daniloff | Lenormand Oracle
I am a massive fan of Alexander Daniloff's Tarot decks and I was super-excited when he contacted me a couple of weeks ago to let me know that he had completed a new deck – a Lenormand Oracle!
What can I tell you about it?
This first printing is limited to 500 copies and will be signed and numbered. Size-wise, this is a 2.25″ x 3.5″ deck – perfect for a Lenormand deck and for laying out the 36-card Grand Tableau spread.
It's a standard 36-card Lenormand with two additional cards to play with – an extra Lord and Lady. This will ensure that all types of relationships can be comfortably read, not just M/F.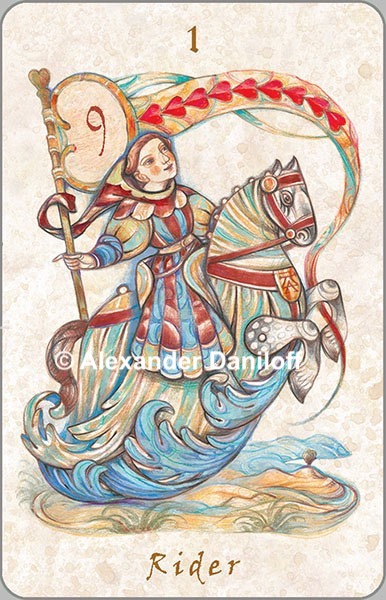 As you can see, each card is numbered at the top and has its title, in English, at the foot of the card. Pip playing card associations are presented in a fluttering banderole that features the appropriate number of pips in the suit concerned.
Those cards who have court card inserts have lovely character studies of Kings, Queens and Knaves.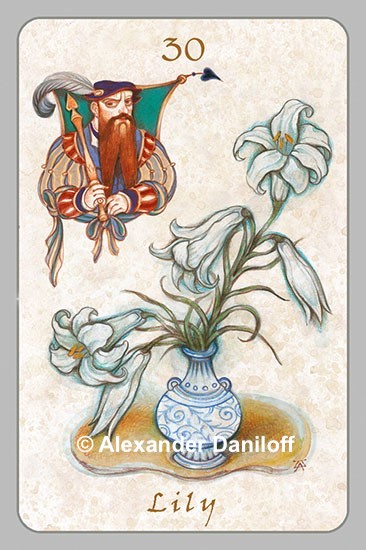 The imagery and colour-palette is exquisite (of course, I'm biased!) and I am very much looking forward to holding a set of these cards in my sweaty little paws!
There will also be a downloadable pdf (written by me) available from Alexander's website that will help you get started on your Lenormand journey, if it's a new system to you. The final page of the document has links and suggestions for fab authors and content creators to take a deeper journey into the world of the Lenormand.
This Lenormand is set to become a much-coveted item in your collection!
The deck will be ready to order from Alexander's website in December.
To see all the images: http://www.daniloff-art.it/Tarocchi%20gallery/Lenormand%20Oracle.htm