Viceroys Playing Cards | Ian Cumpstey
A while back I noticed a kickstarter project for a set of playing cards being created in the UK by Ian Cumpstey. The intricate styling is very much based on the beautiful cards of the Islamic Mamluks.
As one might expect from Islamic art, there are no figurative representations in the Mamluk cards, only geometric shapes and abstracted floral/leaf images. This has been translated into Cumpstey's beautiful little deck – take a look, you won't be disappointed.
It's a standard playing card deck – Ace through ten with three court cards – Jack, Queen and King. There are additional cards – a publisher's card with Ian Cumpstey's details, a title card called 'Viceroys' and two identically decorated cards that equate to a contemporary deck's two jokers.
Here are the details:
52 poker-sized (2.5″ x 3.5″) playing cards
Double-ended back design
300 gsm card stock with linen finish
Custom tuck box
Printed by Cartamundi UK
The playing card tuck box is decorated on both sides with a blue-toned abstract floral similar to that on the 'jokers'.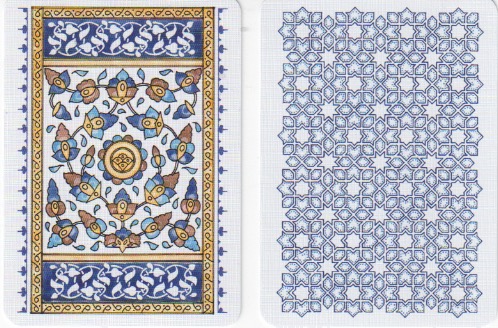 'Joker' image on left and card back geometric pattern on right
The Courts follow the same basic pattern as the Mamluk cards with inscriptions in a blue band at the top of the card and the card title in a blue band at the bottom of the card. However, the suits are those of European playing cards, not the original Mamluk Cups, Swords, Polo Sticks and Coins.
The inscriptions for the courts on the original Mamluk cards are very charming and, in some cases, quite divinatory in nature. For example (this is a translation) : "With the sword of happiness I shall redeem a beloved who will afterwards take my life".
Yikes.
You don't want that coming up in a reading too often, right?
So the aphorisms on Ian's cards are different.
SPADES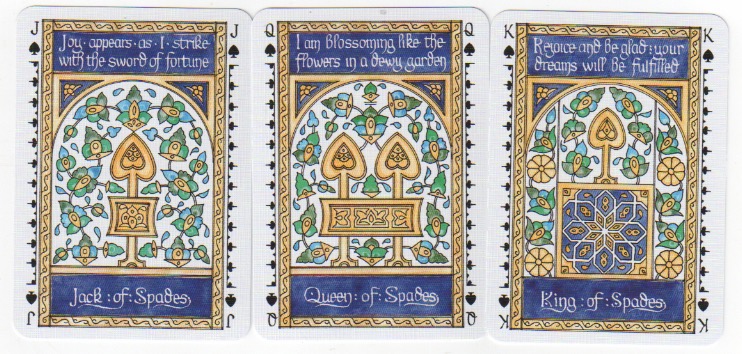 Jack: Joy appears as I strike with the sword of fortune
Queen: I am blossoming like the flowers in a dewy garden.
King: Rejoice and be glad, your dreams will be fulfilled.
DIAMONDS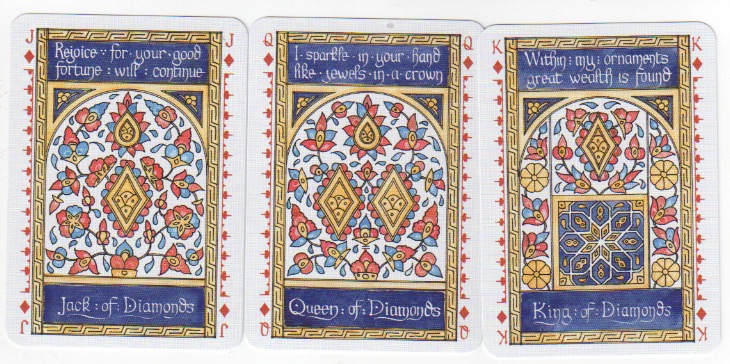 Jack: Rejoice for your good fortune will continue.
Queen: I sparkle in your hand like jewels in a crown.
King: Within my ornaments great wealth is found.
CLUBS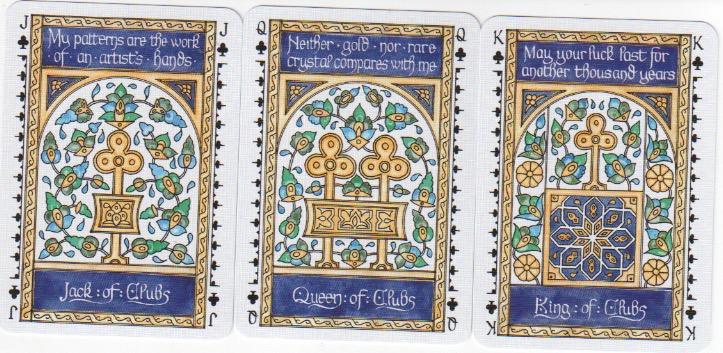 Jack: My patterns are the work of an artist's hand.
Queen: Neither gold nor rare crystal compares with me.
King: May your luck last for another thousand years.
HEARTS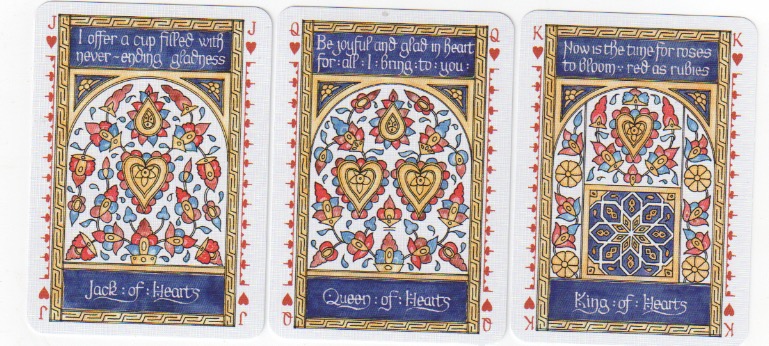 Jack: I offer a cup filled with never-ending gladness.
Queen: Be joyful and glad in heart for all I bring to you.
King: Now is the time for roses to bloom, red as rubies.
If you are looking for a really pretty set of playing cards that respectfully nod back through time to an ancestor of our Tarot deck, then this is the deck for you. At only £10.00 a pop (plus P&P), it's well worth it. Check out Ian's website
here
.