My Rupaul's Drag Race Tarot deck arrived this morning and I rushed through my chores so that I could open it.
Oh to say that I am disappointed doesn't cover the half of it!
It's a full 78-card 'intricately' designed deck, 'based on the Rider Waite' design. Well, my definition of 'intricate' and 'based on' is clearly quite different from the deck designer/illustrator
Let's start with the box. It is a lovely, sturdy box with a flip top lid and is branded up with the familiar pink jump-suited and white-booted image of Rupaul that fronts every Drag Race show.
However, the back of the box states ' please note that this product is not associated with the series Rupaul's Drag Race.' Say what?
The box nor deck contains details of the creator. Which is unusual, I think.
Anyway, to the deck. As I said, 78-card deck with Strength at VIII and Justice at XI.

There are 22 Majors, each illustrated by a drawing of a Drag Race Queen set against a coloured background. Above the image is the card number in Roman Numerals. Beneath the card image is the card title (all as you would expect) and the Queen's name.
And that's it.
The Queen's aren't posed against back drops or posed like the RWS or holding any symbols of any stripe.
Moving on to the Minors, the suits are:
Wands (edged in blue)
Pentacles (edged in gold)
Cups (edged in purple/lilac)
Swords (edged in green)

Unusual colour selections for the suits, but ok I guess.
Again, other than the edging around the cards, you would be hard-pressed to know what any card was supposed to be if removed from its coloured frame.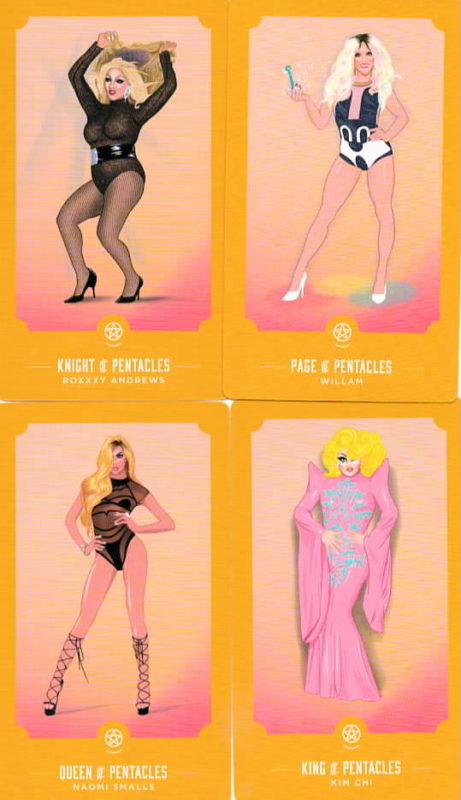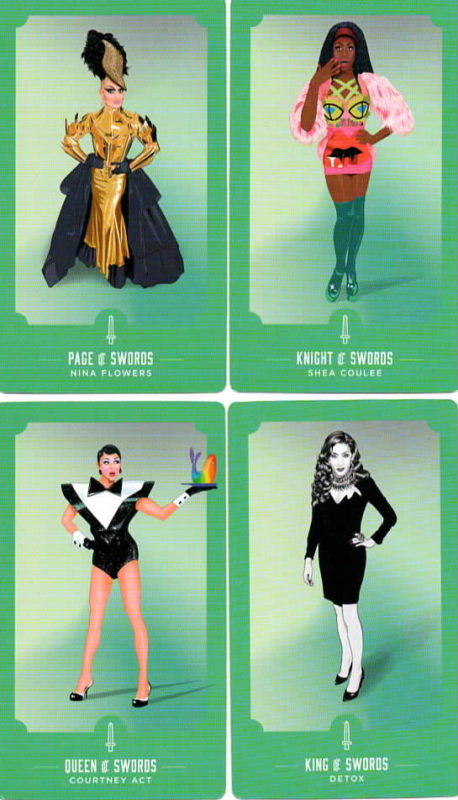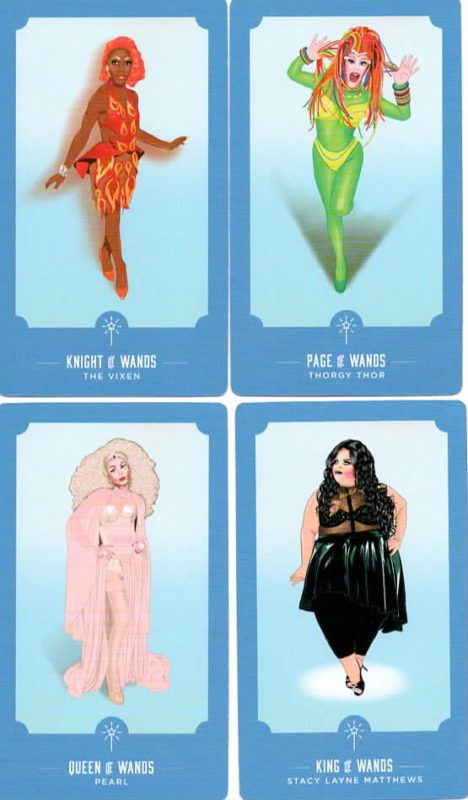 I SO wanted to love this. And I HATE disrespecting anyone's work – but this is not a functional Tarot deck. The illustrations are cute – I know, I get that. But given that there are LOADS of well-thought out, strongly illustrated Tarot decks that are fabulous and desperate for your money … I am incredibly disappointed with this one.
May be fun to gift to a Drag Race friend or your very own Queen, but as a working deck, doesn't give you a heck of a lot to work with.
It's not a 'chantay you stay' for my collection; it's a 'sashay away' I'm afraid.
Am I being too harsh?