President Putin and President Zelenskyy | Birth Cards | Year Cards
It's been an awful week where the much-dreaded invasion of Ukraine by Russian Federation forces began and the world looks on in horror. This is not a blog discussing the rights or wrongs of either side, but a look at the birth cards and year cards of the two Presidents involved.
Today I'm looking their Major Arcana birth cards and also their Year cards and I'll be really interested to know what your take-away is for them.
President Putin's date of birth is 7 October 1952. When we add these digits together we get 7+10+19+52 = 88. Since we have no Major Arcana card 88, we must add the two digits together, giving 16. Putin's Major Arcana birth card is The Tower.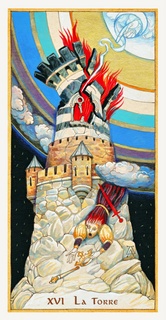 President Zelenskyy's date of birth is 25 January 1978. Adding his digits together, we get 25+1+19+78 = 123. As with Putin, we need to add these digits together one more time to find his Major Arcana card, which gives us 6. So, Zelenskyy's birth card is The Lovers.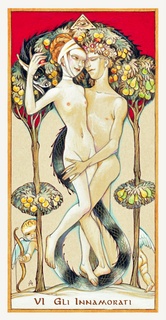 I feel that to elaborate further on either card would show my biases in the conflict, but as a tarotist yourself, you can clearly see that where Zelenskyy's Major is about making choices for the best long term outcome and love, Putin's card is about destruction and getting rid of old boundaries.
So now let's look at what their cards are for 2022. Putin's birth day and month together with this year (7/10/2022) give us 59, which in turn gives us 14 Temperance. Zelenskyy's card for this year is calculated the same way (25/1/2022). This adds up to 68, which in turn gives us …… 14 Temperance.
Both Presidents have Temperance as their 2022 Year Card!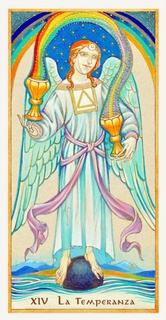 Going straight to A E Waite's Pictorial Key (because I am not unbiased in this reading, I am rooting for the President of Ukraine, not Putin) he says that Temperance is about: Economy, moderation, frugality, management, accommodation. And that's accommodation in the form of compromise 🙂
But both of them reach it by different routes – Putin by 5 and 9 and Zelenskyy by 6 and 8. For Putin this means the Hierophant and Hermit and for Zelenskyy The Lovers and Strength/Justice (depending what kind of deck you use). Either card works for me for Zelenskyy!
What do you think these cards say about both leaders? Which leader will cope best with the concepts of Temperance this year? What do you make of Putin's birth number being two 8s and Zelenskyy's being a run of 123?

I've worked out their court cards too – more of which tomorrow.
(featured image: card back from Majors Only Tarot, Fatigue of War, by Alexander Daniloff)
May the the angel of Temperance watch over the peoples of Ukraine and the Russian Federation.