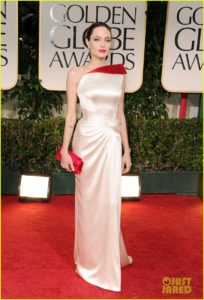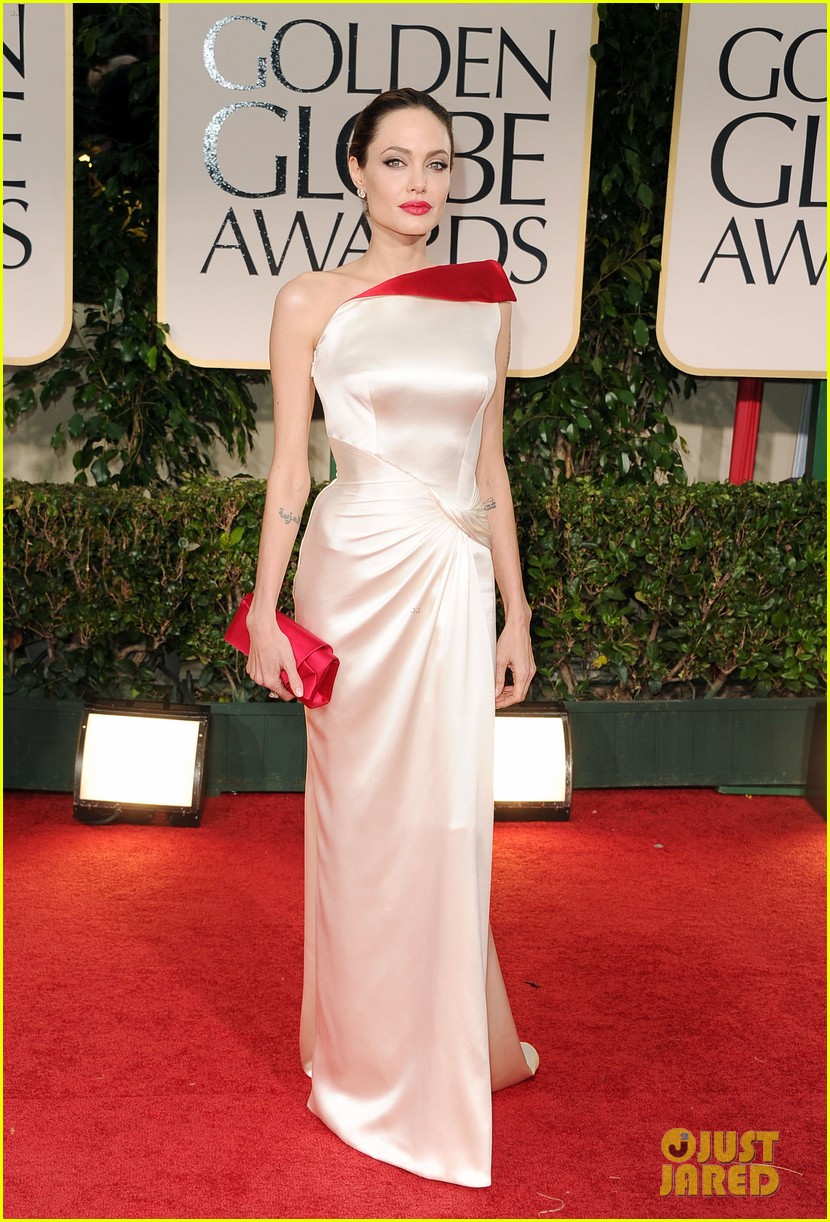 Here she is – the immaculate A-list movie star.
I *know*. Look at her wrists and arms.
Thin.
That woman needs a box of Cadbury's finest confectionary or at least a cople of packets of Tunnocks Caramel Wafers Fed-Exed to her immediately….
Aaaanyway…..
Let's take a look at the many faces of our Angie…..
First of all, here she is pictured with husband Brad Pitt.
Are you looking at that photo shouting: 'FOR GOD'S SAKES, GIVE JENNIFER ANISTON BACK HER HUSBAND'? Just me? *coughs and shuffles feet*
God, but I HATE this woman!
Sexy, magnetic and unafraid to go after what she wants – even if it's sitcom-darling Anniston's husband, Jolie embodies the Queen of Wands – and not always in a positive way. However, when you think of the roles that she plays – Adventurer Lara Croft and, erm, Adventurer Lara Croft, assassin Mrs Smith, spy Salt, kung-fu expert Tigress (Kung Fu Panda – do keep up) and the indefatigable Christine Collins in The Changeling – bold, brave and dynamic – these are very positive Queen of Wands traits.
But lo! Here she is again… this time working for Unicef, where she is a tireless ambassador, travelling to the most un-film-starry of places to put the spotlight on conditions for the world's poorest children.
Look at that amazing face – utterly unmade up. That famous hank of hair, so carefully coiffed for the red carpet, hangs in a loose and frayed braid. There is no trace of the Versace, in its place a plain white tee and a blue baseball cap.
It was whilst filming Tomb Raider in Cambodia that she came into contact with Unicef. And she's worked for them ever since.
God, but I LOVE this woman.
For me this is Angelina in full Queen of Pentacles mode. Sure, everyone can SAY that they support a cause, but not everyone gets mucked in and is prepared to do her daily ablutions in a bucket.
Added info: Jolie also caused a furore in 2013 when she announced to the world that she has had a double mastectomy (with reconstructive work) as a preventative step. She made her decision public so that other women would know what she had done and would therefore be able to look after THEIR own health as a result.
In September 2014, The Sunnybrook Hospital in Toronto reported a DOUBLING in referrals re genetic counselling and testing. For me that's TOTAL Queen of Pentacles savvy – everybody wins because of what she has done.
Here she is again….
…this time with her rainbow family and……..JENNIFER ANNISTON'S HUSBAND. *fans herself with Hello Magazine * I'm sorry, I'm sure that it's bound wear off in a couple of years…. *** Edit: it's now 2021 and I'm still ridiculously incensed.
Angie as Queen of Cups could actually be another couple of sets of photos completely. She has been married to Jonnie Lee Miller and Billy Bob Thorton and seems to have found happiness with Pitt.
Possibly because he doesn't have a three-letter middle name.
The photos could also have come from her film roles – The creative side of Angie undoubtedly surfaces in her work and as she ages – snorts like this luminescent creature could actually AGE! – hopefully she will move away from the hard-nut femme fatales and embrace her inner Queen of Cups. I wonder whether she's afraid of it?
Anyway, this woman has been known to GIVE AWAY her massive salary from a movie to finance causes.
God, but I LOVE that woman.
Here she is again…..
I chose this one of her tattoos because she has script tattoos – words that are meaningful to her. In full Queen of Swords mode, Jolie is quite the bullshit-hating activist. The erudite actor who communicates not only via her movies, but also via her books on humanitarian works.
***16/2/2012 – Angelina Jolie talking about a film she has just made re The Land of Blood and Honey – another bit of Queen of Cups spilling out there, Angie baby……but it was the Queen of Swords that made the movie 🙂 Jolie, in Queen of Swords mode WILL tell you your arse looks too big in that.
She also looks, to me at any rate, lonely. She has always felt like a bit of an outsider too, saying "I am still at heart—and always will be—just a punk kid with tattoos" which doesn't sound very movie-starry. Quote from Wiki.
We never see her falling out of the back of a taxi on a girls' night out with the back of her frock tucked into her knickers, clutching her high heels or staggering home.
This solitude is a trait associated with the Queen of Swords. One can be in a relationship or be surrounded by people and be still be lonely, for sure. Maybe that 'predatory' Queen of Wands reversed energy is too strong for most women to be comfortable with.
Certainly any women whose husband has a three-letter middle name will be steering well clear…….
September 20th 2016: Seems that she is embodying the 'woman alone' aspect of the Queen of Swords this month as it has just been reported that she and Pitt are divorcing.
So you see what I'm driving at with all this? She's all of them. WE'RE all of them – the Kings, the Pages, the errant Knights, the Queens – all the time. We just polish up and show a different face of our 16-facet high-carat personalities depending on the situation we face – and that affects how we handle things.
We might not be able to do much about our situations, but we CAN change how we handle it: If being the Queen of Cups whilst handling your waspish mother-in-law is leaving you a washed out rag of humanity, try on the Queen of Swords energies instead.