My Family | Minchiate Courts
Thought I would start a regular meme where we can look at the Courts of various decks – especially decks that are a bit different to the RWS style.
Have you ever taken a look at the Minchiate Tarot? It's massive! Not only are there your standard Major Arcana cards (give or take one or two), Minors and Courts – but all the Zodiac cards, Virtues and Elements, giving a grand total of 97 cards. I *know*. Fascinating. Murder to learn though 🙂
The Court Cards are intriguin. Of course, they are a the sort of courts that can make you weep because not only is there a dearth of helpful symbolism, but their names aren't even on the cards.
The accompanying book offers a fascinating insight into how THESE courts are to be interpreted.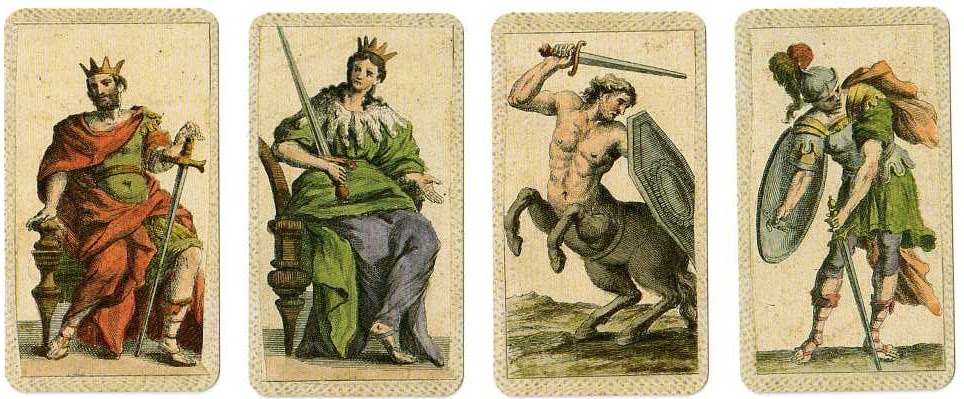 This is the Sword family – running from King on the left down to the Knave on the right.
The book, by Andrea Vitali, defines them as:
Knave – Young man who causes suffering
Knight – Man who vehemently inflicts pain
Queen – Authoritarian woman who inflicts pain as a means to an end
King – Authoritarian man who causes pain without having to justify his actions
Yes, in this deck, Swords are simply 'painful situations' – think of their Swords used solely for hurting.
Wands don't fare much better. Here's their family: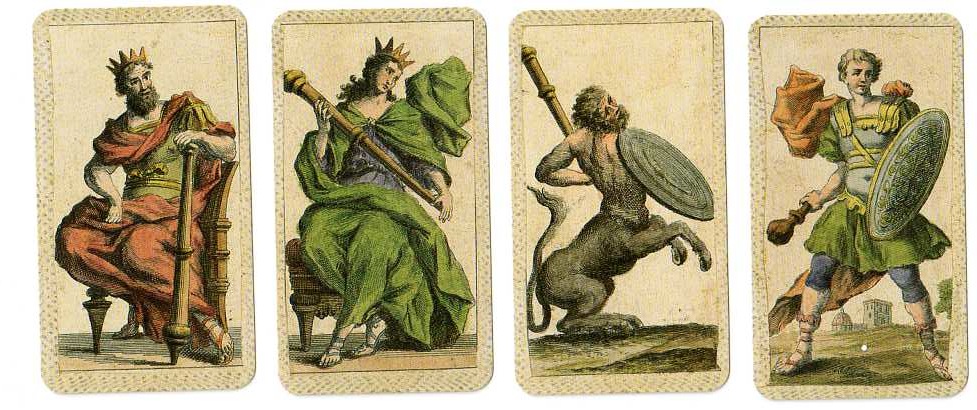 And here's what the Minchiate book says about them…..
Knave – young man who creates problems
Knight – young man who creates problems with certain outbursts
Queen – ambiguous woman who creates problems
King – authoritarian man who creates problems without having to justify his actions
Yep – Wands are aaaaaalllll about problems – think of their Wand as a wooden spoon, stirring it!
Do the Cups family score any better?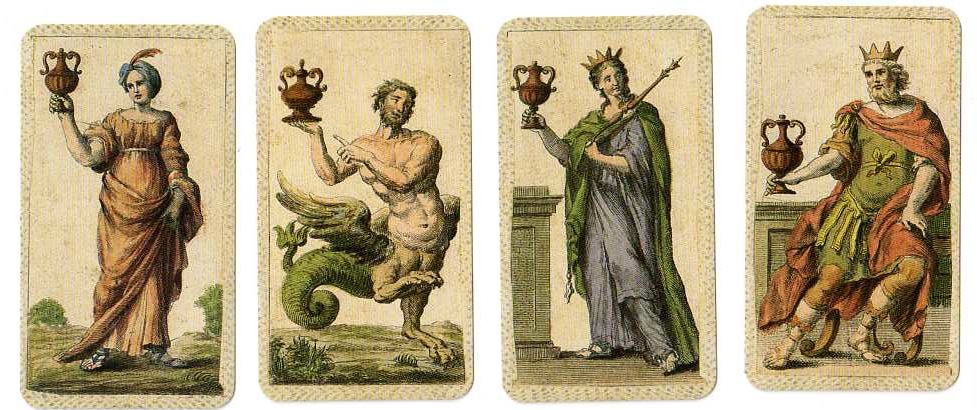 Of course, this time I scanned the Cups with the Knave to the left and the King on the right. Consistent? You must be getting me mixed up with someone else…..
Knave – Young woman offering gifts
Knight – Youn man who offers positive opportunities regularly
Queen – Authoritarian woman who acts out of affection as an end to a means
King – Authoritarian man who offers gifts, affection, love and help without having to justify himself to anyone
Clearly the Cups are regarded as uniformly positive guys (the book calls them 'positive situations') – think of that cup as a loving gift to someone.
And what of the Pentacle clan?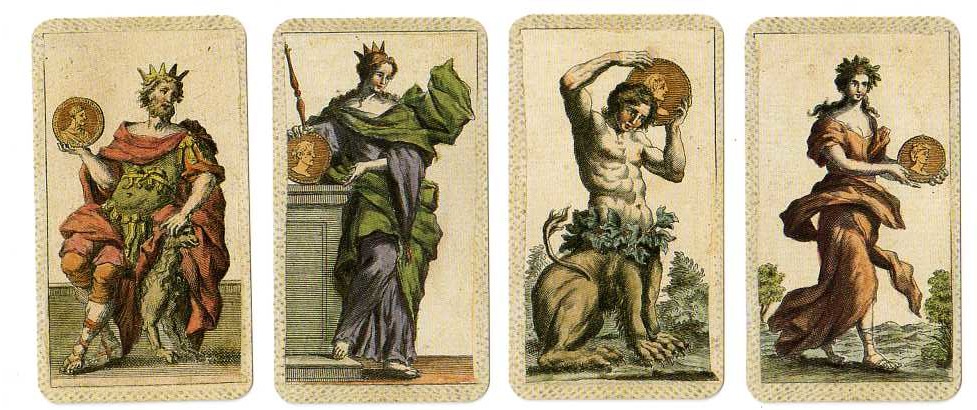 ….and back to King on the left and Knave on the right….like I said, consistency is not my strong suit 😉
The book describes the realm of Coins as 'Happy Situations', so they're going to be Goodies.
Knave – a young woman who creates situations that bring happiness
Knight – a man, present for a long time, who offers love, availability and great affection.
Queen – an authoritarian woman who intentionally inflicts pain …….
WWWWoooooooaaaaa *slams on brakes* This is clearly an error. I checked with the Italian words in the same book and then typed off a query missive to Lo Scarabeo . They kindly (and immediately) replied with the correct translation 'an authoritive woman who gives good things for the right reason.'
King – an authoritarian man who offers beautiful things without having to justify himself.
Actually, Andrea Chiarvesio of Lo Scarabeo suggested replacing 'authoritarian' with 'authorotative' for that definition – which could then apply to the other Queens that have been labelled that way. This makes them all feel a bit less imperious, don't you think?


So the Minchiate Courts are full of Kings who answer to no-one and Queens who act consciously with an outcome in mind. The Swords and Wands are without doubt troublesome characters in the Minchiate with no redeeming features whatsoever and the Cups and Pentacles are the families whom you want living next door.
And the Knight of Pentacles seems to be Mr Right….. Something that I hadn't much considered. But, now that I think about the RWS knights – aren't the Knights of Wands and Swords the first into battle and the dogged Knight of Pentacles the one who remains there after the other three have left the field? Yep he would do me fine as Mr Right 🙂
Do the descriptions of the Minchiate Courts rock your own thoughts about particular courts – or could they add clarity?
What do you think?
Copyright information: Deck: Minchiate, Published by Lo Scarabeo, accompanying book written by Andrea Vitali
You can buy it here