Sovereignty in the Courts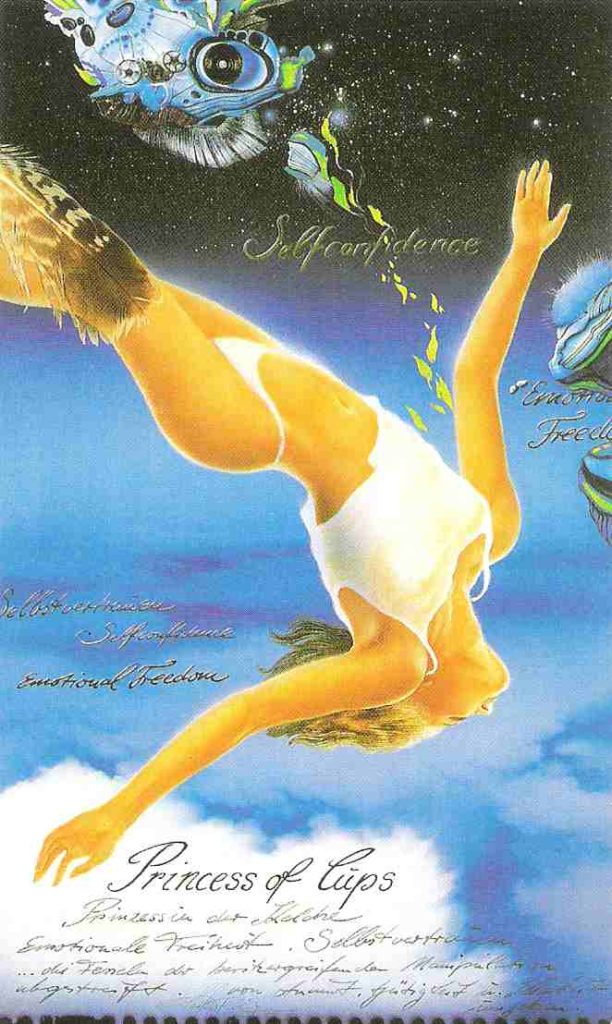 Rohrig – Princess of Cups
This is a very special day – the Leap Year Day where women can ask their beloved to marry them without having to go through the pantomime of sighing and dragging their feet as they go past every jeweller's window on the High Street.
I myself open the door of wedding dress shops and shout 'Don't Do It!' Cynical, moi?
Flamboyant playwright Oscar Wilde once said that it was the tragedy of every woman to turn into her mother and that it was the tragedy of every man that he didn't.
Or something like that.
This got me thinking: How do you think that sovereignty is transferred in your Tarot deck? Do the Kings marry into the Queen's suit or do the Queens marry in to the King's suit?
That might all sound a bit confusing……I'll try to clarify and hope that I don't tie myself in knots as I do so!
Think of our own Dear Queen Elizabeth. OK, she was of the House of Windsor (or Saxe-Coburg and Gotha as they are REALLY called) and Prince Philip married IN to the Windsors from the equally confusing and non-Greek sounding House of Schleswig-Holstein-Sonderburg-Glücksburg.
He became a Windsor, SHE didn't become a Schleswig-Holstein-yada-yada.
So – if the suit traits descend through the Queen, then who do you think the Kings might have been as young men? How does marriage into a different Court from the one they have been brought up change them?
Personally speaking – I married a Knight of Wands and ended up with a King of Pentacles. You can imagine how disappointing THAT turned out to be, seeing as how I'm not a Queen of Pentacles myself 😉
If the suit traits descend through the King (like a traditional marriage where the wife takes the hubby's details USUALLY), this means that the Queens were young girls brought up in different suit families. Who might they be as young women?
Take a look at your Pages/Princesses and your Knights from your own favourite deck and see if you can work out who is likely to grow into which Queen or King 🙂
Does the loving innocence of the Princess of Cups transform into the cynical Queen of Swords?
Does the intellectually fierce Knight of Swords morph into the King of Cups with the love of a good woman? Does the Knight of Wands burn through the business world like a forest fire to become the King of Pentacles?
What do you think?