Goodbye…..Queen of Wands!
Today, technically, the full moon for March is this morning! I shuffled my Court Cards from Ciro Marchetti's Tarot of Dreams to see whose energies will be leaving me over the next couple of weeks…. and drew The Queen of Wands.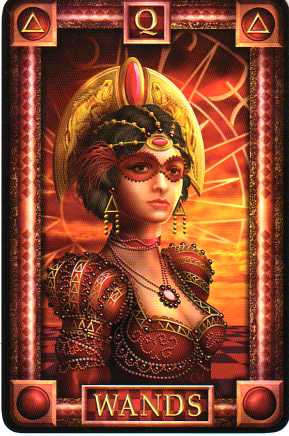 Shame. I really liked her – she was my Incoming Energies card from the last New Moon. She has many fine points that I was finding useful – such as that can-do attitude. This manifested as a properly cleaned out greenhouse AND a damn fine lemon and almond cake (that has taken me four attempts to get right!).
Maybe I could keep her best bits and get rid of her less desirable attributes in the time running up to the New Moon?
Let's see, what ARE her less desirable attributes?!
Well, for a start I could be more understanding about her relentlessly upbeat approach – it really does get on people's nerves. To be honest, sometimes I even get on my own nerves 🙂
She verges towards the aggressive – in the Minchiate – she's a total stirrer. I don't think that I AM a stirrer (stirrers deliberately and sneakily incite trouble for people) in real life…but I will really TRY to curb my desire to lapse into moaning about other people. That will be tricky if I'm honest. See, when you're working The Queen of Wands, EVERYONE else is just an also-ran 😀
The sexual energy of the Queen of Wands – which would by all accounts be a positive in most people's lives – is less so in my own. It won't be hard to give up trying to engineer steamy romps and now I can return to reading in bed with my cardigan on. Those silky slips – so alluring – but soooooo damned cold – can be banished to the bottom of the wardrobe *high fives the reader*
Looking at this Queen in particular, she is masked. Maybe I can stop pretending to be something that I'm not in an area of my life? Yes, I would be happy to give THAT particular aspect of the Queen up!
She's also wearing a very lovely frock with quite a lot of bling. And to give up the desire for Nice Things….acquiring just for the sake of acquiring….might be sensible given that it's Miserly Miserable March.
What other energies of this Queen of Wands could I work on relinquishing?
Copyright: All art copyright to Ciro Marchetti.
If you'd like to buy this deck, please check out Ciro's website – there's only a couple of dozen of this deck left! And there's even a Tarot of Dreams app you can buy for your ipads!