Scoooby-dooooobie-doooooo!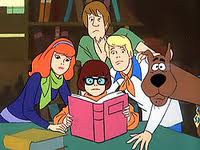 Say hello to the intrepid team who busted ghosts (and it was NEVER a ghost, usually some care-taker who would have gotten away with it too if it hand't been for those pesky kids)
But who are they? Velma with her insightful logic, the laid-back hippy Shaggy, Scooby-doo who is scared of everything but who still manages to catch the villains, Daphne with her….well, whatever it was that Daphne contributed to the gig, and Fred who single-handedly turned the butch neckerchief of the cowboy into the gayest bit of clothing that the 70s ever witnessed.
…and what about the interminably irritating Scrappy Doo? The Jar Jar Binks of the Scooby gang…..
Which court cards would you associate with each character and why?