Hello to The Page of Coins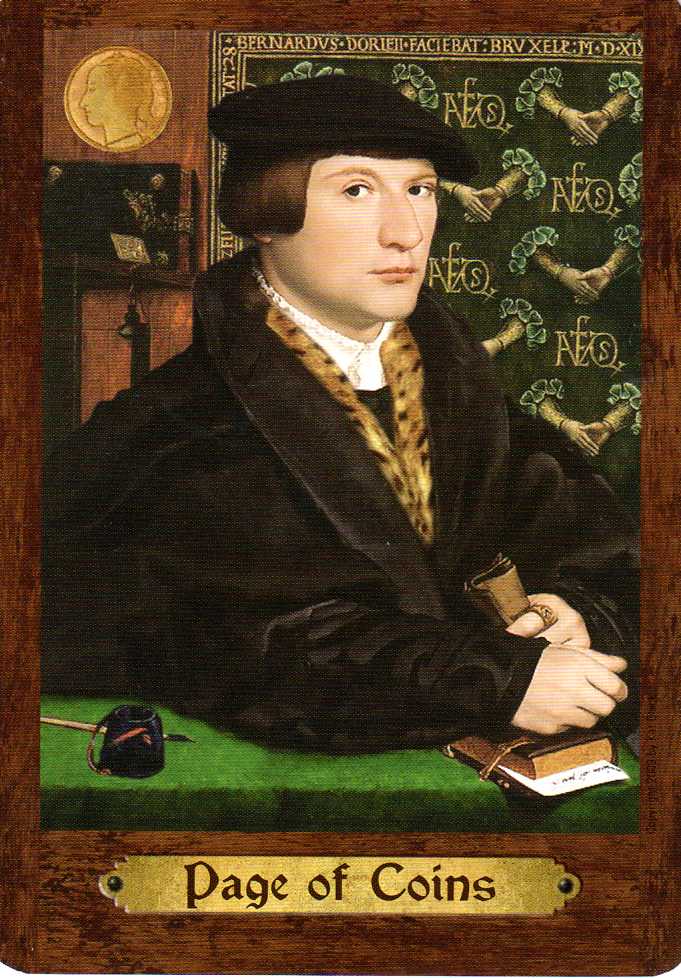 Page of Coins: Touchstone Tarot
Kat Black
On Friday the moon slipped into darkness before beginning to glow and grow in strength again. That's my cue to pull a card to show me what energies will be useful to me until the full moon next month.
Say hello to Kat Black's Page of Pentacles from the Touchstone Tarot.
This is the second time that I've employed Kat's sumptuous deck for this exercise and it's the first time I had a good look at the Page of Coins.
Coins equate, of course, to Pentacles and his appearance here lets me know that I will be focusing on the physical for the coming period. Which suits me fine!
My nose is streaming and my eyes are watering – I am most definitely coming down with a cold. Unless it's hay fever *looks hopefully out of the window at the lashing rain*. Unlikely.
I'm also trying to increase the amount that I run. Well, when I say 'run', I really mean 'jog.' And when I say 'jog,' I'm really talking about the speed that an arthritic labrador can overtake me with ease. But still, it's a START.
And the Page is all about the starting….
Kat takes elements of many beautiful paintings (for example – Holbein's Hans The Younger provides the Page, the table and book; Fra Angelico for the gold coin hanging on the wall) and seamlessly melds them together into a stunning new image.
In the accompanying book, Kat has this guy pegged as a scholar, someone who is prepared to get his head down and work through all the data. She actually writes 'slow and steady wins the race,' well, my jogging is certainly slow and steady. Not sure about it winning any races. Unless that arthritic dog is up for the challenge.
For me, the Page of Pentcles is keen to try new things and is very hands on – so he's more like an apprentice to me than a student (I'd associate that more with the Page of Swords). However, I've just started attending an art class that will, God willing, at the end of 10 weeks see me producing a couple of Major Arcana Tarot card paintings/drawings. Play your cards right and I might show them to you. Maybe not. You'd need to promise to be gentle with me. We Pages are only little souls who are just sending forth little tendrils for exploration – we are easily crushed.
What does the Page of Coins mean to you?
Good Golly Miss Molly – check out that Amazon price!!!