Significators | The easy way!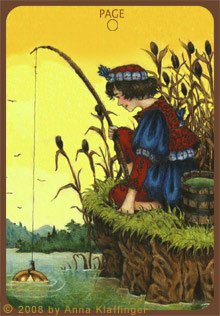 Welcome back, little Pages!
From: Anna K Tarot
I admit, I've been a little unfair to you, dearest reader: I hit you with the Golden Dawn Astrology/Court Card associations and I can see that you're a little woozy as a result. I honestly TRIED to make it engaging. I even drew you TREES. I don't even draw my SON trees.
Today I am kinder and outlining three easy ways to select an appropriate Significator.
The first is simplicity itself – simply hand over your court cards to your client and allow your client to select a card to represent himself in the reading! It doesn't get any easier than that, does it?
Huzzah – you don't need to do anything tricky with decans or astrology AND it allows you to see how your client sees themselves. Which can be enlightening.
Of course, they don't have to explain why they chose a card, but if they are willing to share their thought processes, it will add to your store of Court Card knowledge. I would suggest that you ask at the end of the reading, after all the work is done, so that it doesn't look like you are fishing for information from them to enhance the reading.
The second method is equally simple:
A Page will represent someone young (probably too young to have a Tarot reading lol!)
A Knight will represent someone younger than you (male or female)
A Queen will represent a mature Yin energy (ie could be a man)
A King will represent a mature Yang energy (ie could be a woman)
And you chose the suit depending upon the subject matter for the reading (see below for some ideas)
The third method is to chat with your client about the issue and establish how THEY see themselves with regard to it. Listen to how they talk about the issue they want to ask you about. Do they feel hurt? Do they have a decision to make? Is it about money or work? Are people not talking? etc.
Then you flick through your lovely bundle of court cards until you find the card that best represents your sitter with relation to the question at hand.
Pages – represent beginnings of things
Knights – represent that questing spirit and dilemma
Queens – represent a mature nurturing, supportive, teaching role
Kings – represent a mature outward display of mastery
Cups – romantic or relationship – emotionalised issues
Swords – grief, poor communication – intellectualised issues
Wands – work, travel, active, intuitive – issues that involve doing something
Pentacles – wealth, health, hearth – issues about 'being'
Just as some of the blog posts here on 'Thrones' have prodded you to make decisions about chosing court cards for various characters in songs etc, using this method, you will pull focus down onto one aspect of your sitter and their issue and select the court accordingly.
And don't be shy, tell your sitter why you have chosen this card. They may disagree, thereby helping to clarify the reading that is required.
These three methods are very flexible, allowing your sitter to be represented within the reading by a different card every time. The methods from Wednesday's blog post (which depend upon Astrology) will mean that the same card represents the same person every time – whether you think that's a good thing or a bad thing is entirely up to you! 🙂
Personally, I prefertoday's methods because, while Astrology undoubtedly adds to the layers of interpretation available to you when reading, I believe that Tarot is a strong enough system to work on its own.
Which method of chosing a significator do you prefer?
This is the Page of Pentacles from the Anna K Tarot. Click on the link, or on the image, to visit Anna's site and see this lovely deck!