Significators: Why bother?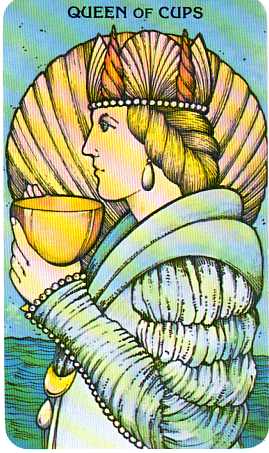 Queen of Cups
Morgan Greer Tarot
published by US GAmes Systems Inc
Court Cards can perform a specific function within a Tarot reading; the role of Significator.
A Significator is a card that is deliberately chosen to represent the sitter. There many different ways to select a Significator, so I've decided to break down the various methods of selection into next week's blog postings.
Note that I say 'CAN' have a specific function: Not everyone bothers with a Significator card these days. Regardless of your method of choice, if you deliberately select a card to act as the sitter, then you immediately preclude that card from turning up within the reading itself. That grates on the sensibilities of many Tarotists who would prefer to have ALL the cards at their disposal.

It's a perfectly valid reason not to bother with a Significator, but it's simple to get round that particular bugbear – just use a different set of Court Cards to those in the deck you are working with. This will ensure you have ALL court cards at your disposal for the reading itself – as well as allowing you to work with your favourite courts.
It could even give new purpose to a damaged deck that is currently lying unused and unloved in a drawer – use the courts solely for significator selection? It's an idea, what do you think?
There are some fantastic spreads that depend upon the use of a Significator, namely the Golden Dawn's Opening Of The Key spread, which we will look at in a subsequent blog posting too. Jeez, we're going to be busy!
Other people simply don't bother with a significator because they regard it as just a pile of old-fashioned toot. Well, that's fine too. It's what I used to think 🙂
But now I have seen the light, dear reader *pauses for a couple of 'Hallelujahs' and 'Amens'*
I've found that using a Court Card as a significator really helps me get in The Zone for the reading. With a court chosen to represent my sitter, we jump through the looking glass from this world and enter the world of the Tarot cards: The sitter, as Significator, becomes part of the reading.
I know. VERRRRRRRY hippy-trippy 🙂
So, tell me – do YOU use a Significator or not? I've put up a little poll over there on the right hand side of m'blog. Vote if you've got the inclination and time!