Toodle pip to the Page of Cups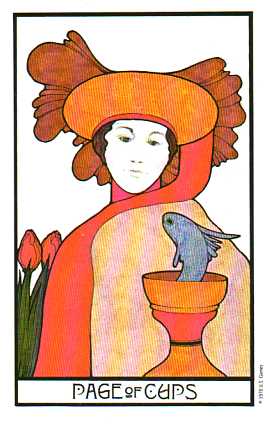 I spent most of last week in Edinburgh, being dragged like a sulky teenager from exhibition to exhibition as my partner and son dabbled excitedly in the Black Arts of science: It was all dancing robots, LEGO mindstorms computer-assisted robots and, frankly, a lot of red wine and convenience foods.
Science exhibitions are FINE, but add horizontal sleet that numbed your cheekbones and made your eyeballs stop turning in their sockets and gale-force winds that actually blows your bedroom window open, I have to confess, I've been happier visiting the dentist.
This character was greatly in evidence as I used every bit of my imaginative willpower to pep-talk myself in the bathroom mirror in the morning so that I appeared jolly and up-for-it for ANOTHER science themed day. By the time Friday's full moon came around, I was finding it all a bit wearing and was desperate to get home to my normal routine.
It is with relief that I note the influence of the Page of Cups is now ebbing until the dark moon. This particular porcelain-faced and rather androgenous Page is set against a featureless white background and comes from the Aquarian Tarot, published by US Games Systems and created by David Palladini.
This deck positively oozes the Biba-esque Art Deco design that was so popular in the early 70s (first published in 1970 and subsequently reprinted). The image consists of a Page in an over-the-top hat that would be well-suited to Ladies Day at Ascot, a fish in a Cup and a couple of red tulips.
Red tulips are associated with declarations of love, like roses are. Only less expensive. And less thorny.
The Page of Cups is Earth (because he's a Page) and Water (Cups) and indicates a fertile mix of creative juices. A fish in a cup?! That's entirely normal to the imaginative Page of Cups.
Sadly, he's on the way out now – butI really did make use of him in Edinburgh!
I am quite sorry to see him go – even though it was quite exhausting dreaming up new things to do as a family every day, putting a smiley face on when the ceilings in the flat we had rented started leaking in every room, gamely recreating the Edinburgh street map in my head because hubby had left it lying on the table at home….
His creative powers will be missed; his ability to find something marvellous in just about everything is enviable. BUT, by Jingo, it is TIRING being the Page of Cups when all you want to do is lie on the sofa snacking on a Crunchie whilst leafing through a magazine….listening to the bad weather howling at the windows….
What do YOU think the Page of Cups might mean for YOU over the next week or so?
Hey – don't forget about The Giveaway!!!