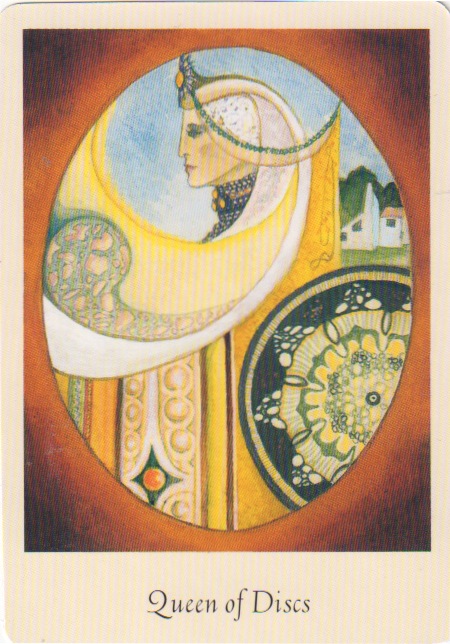 I usually draw these cards based on the Dark Moon (incoming energies) and the Full Moon (outgoing energies) in the evening, once my son has gone to bed.
But our term time routine is now upset and it will take us a week or so to create a Summer Holiday routine. As such I'm blogging on an ad hoc basis (basically whenever I can get in front of a computer without a small boy hanging over my shoulder!).
As you can see, the outgoing influences over the next couple of weeks until the Dark Moon is the regal Queen of Discs from the Intuitive Tarot by Cilla Conway.
The motif that winds its way through the entire deck is the oval frame for each character, giving the appearance of looking at each figure through a lens.
She is depicted, slightly aloof looking, in front of her home – comfortable rather than stately. She is dressed in shades of green and gold (appropriate!) and holds a great shield of organic design in similar colours. Loving that head-dress – very art deco!
The suit of Discs or Pentacles is associated with Health, Wealth and Home and the Queen is the emotional heart of that set up. So I'm a bit glum to see her energies retreating, for a little while at least.
What could it mean?
Will my son and I end up eating packets of biscuits for our evening meal?
Will the house tumble into chaos while my other half works away out of the country (probably, it usually does – I'm a bit feral when it comes to house-keeping to be honest).
Will my money be frittered away on books, bling and booze?!
Will my clicking ankles continue to plague me, even if I stop jogging?
So many questions!
In Cilla's deck, this Queen stands for the organised home-maker and astute business woman, but she may also bolster her fragility with material goodies – Ugg boots perhaps? Cilla says, in the accompanying book: "A natural beautifier, she loves comfort and her home. Often very beautiful *coughs* she is ambitious, confident and energetic. She is highly skilled in practical situations, especially to do with home or business. She makes things happen.'
She can also be, however, grasping, overly-ambitious, egotistical and wrapped up in her possessions. Hmm – maybe the death of my Ugg boots are a sign*, right enough!
How does the Queen of Discs manifest in your life right now?
Queen of Discs image from Intuitive Tarot by Cilla Conway, published by St Martin's Press
Cilla also has a wonderful Oracle deck called Devas of Creation – check it out if you like working with abstract decks.
*They're not really dead. But they sure don't look as good as they did before they got soaked 🙁