OOTK | Part II | Hunt the (scary!) Lady!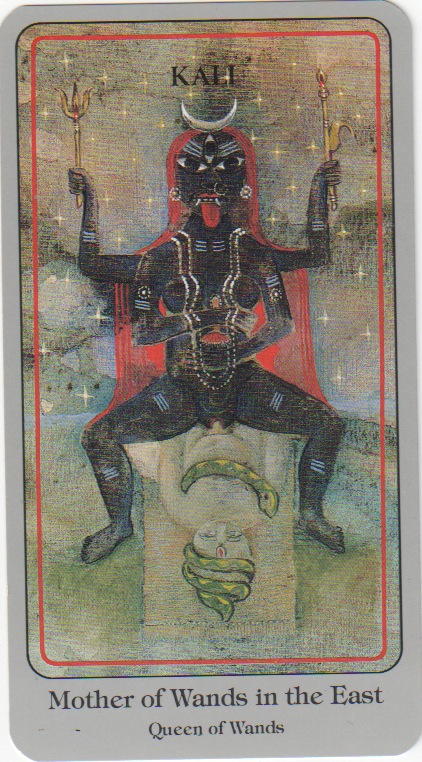 Kali: Do not go home to her
with a burst pay-packet
So, following on from the earlier post about the initial stage of the OOTK spread, we move on to the second procedure but remember, you need never move further through the spread than this section, if that's what you're comfortable with.
Here I've used the Haindl Tarot, for the question: So, what do I do next with my Tarot aspirations?
For my significator card, I chose the Queen of Wands (because she is generally the character to whom I aspire!) and in the Haindl, she is the somewhat bum-clenchingly scary Kali. <- I usually pick the Queen of Wands for more, erm, WHOLESOME reasons 🙂
Given that my question involves 'work' I would be expecting it on either the Fire pile or perhaps the Earth pile…. and lo! there she was right at the top of the Earth pile.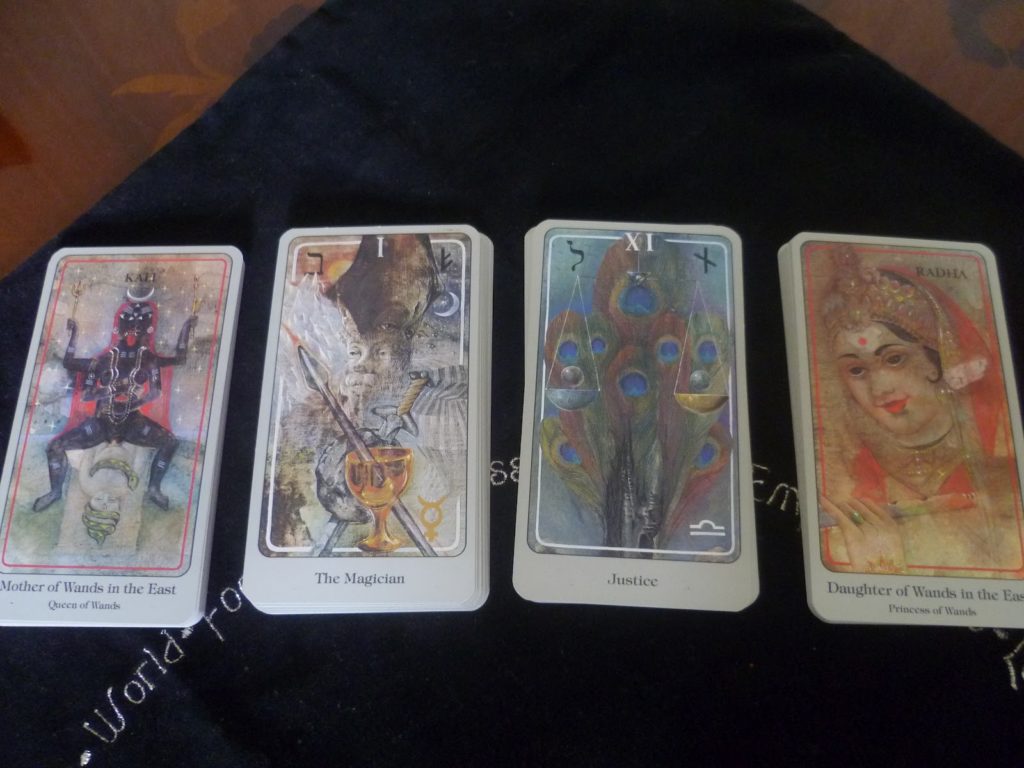 Looking at the photo, from left to right we have Mother of Wands, The Magician, Justice and the Daughter of Wands. If you click on the photo, it will enlarge. I think.
Hmmm – what do you think of that?
Kali was right on the top of the bundle, but if you need to search for your Significator, don't disturb the order of the cards as you edge through them.
Once you locate your Significator, spread them out in a line or fan shape. Run it onto two lines if you're a bit short of space. As I was.
And now we count! My authority for counting is Crowley's Book of Thoth:
* Knights, Queens and Princes (Kings, Queens and Knights, depending on your deck) – count 4
* Princesses (Pages) – count 7
* Aces – count 11
* Major Arcana – count 3 for Elemental Majors, count 9 for Planetary Majors, count 12 for Zodiac""
* Minor Arcana – count the face value (ie 3 of Stones, count 3)
When counting, include the card itself as your first count.
And, basically, make up 'a story' <- direct quote from Crowley there!
You stop counting once you have ended up back on a card that you have previously landed on.
You may also count in the opposite direction, just to see which cards REALLY have relevance (cards that come up when counting both ways) and which cards are resolutely refusing to get involved (cards that you never alight on!)
In some versions, you can even CHANGE the direction that you are counting on in mid-stream, depending on what way your Pages/Princesses are facing, if you fancy it – but I don't recommend that or you just end up in the most awful guddle! Or maybe that's just me 🙂
When creating your story, you can refer to the cards either side of the card that you land on, using elemental dignities or just straightfoward Tarot interps, to create meaning and structure.
Here's a little slideshow to show you how my cards turned out:
I know. Oliver Stone I am not 🙂
I appreciate that it all goes a bit quickly, so here are the photos so that you can see the images a bit more clearly: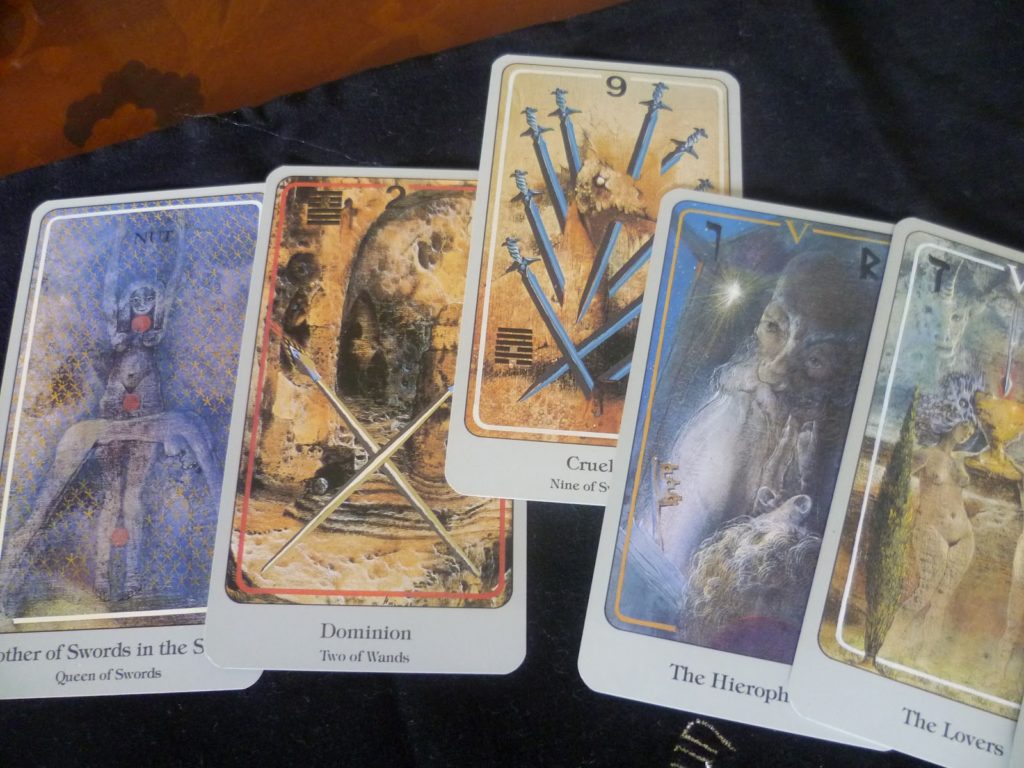 9 Swords Cruely, flanked by 2 Wands Dominion and Hierophant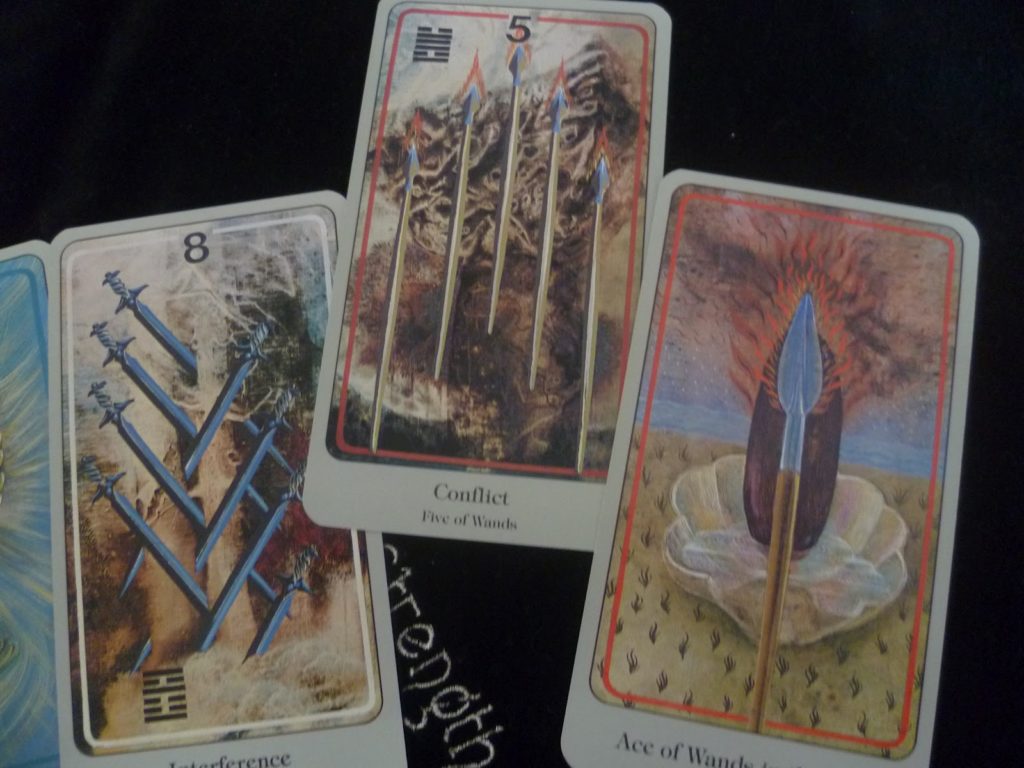 5 Wands flanked by 8 Swords Interference and Ace of Wands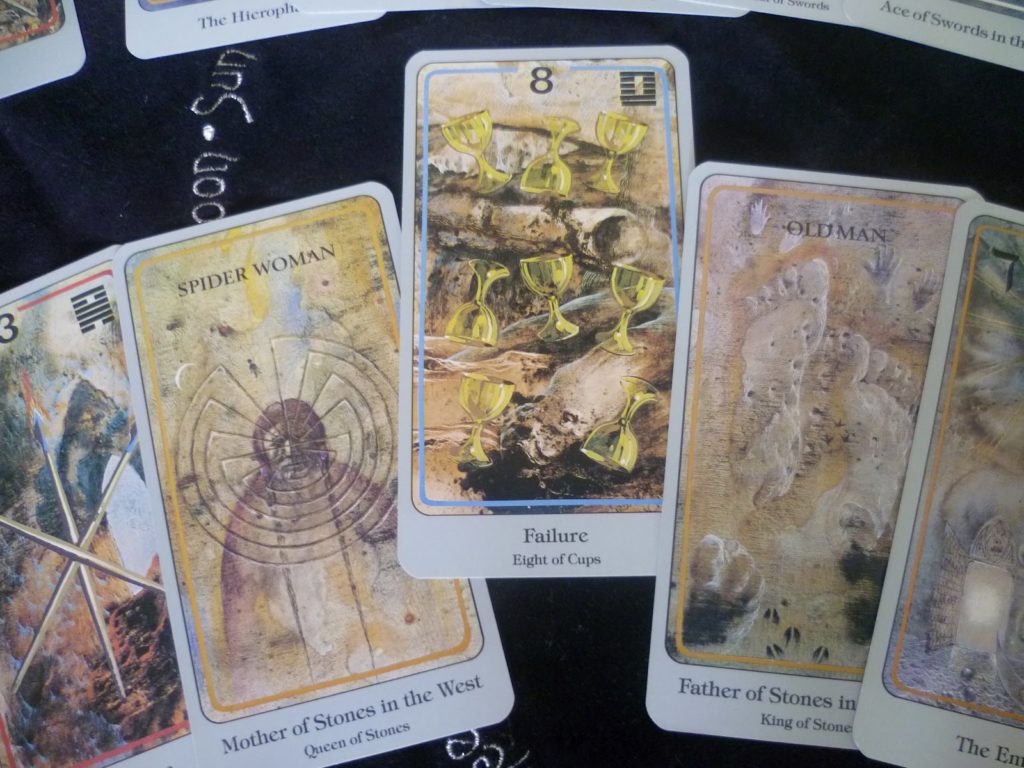 8 Cups, flanked by Mother of Stones (QoP) and Father of Stones (KoP)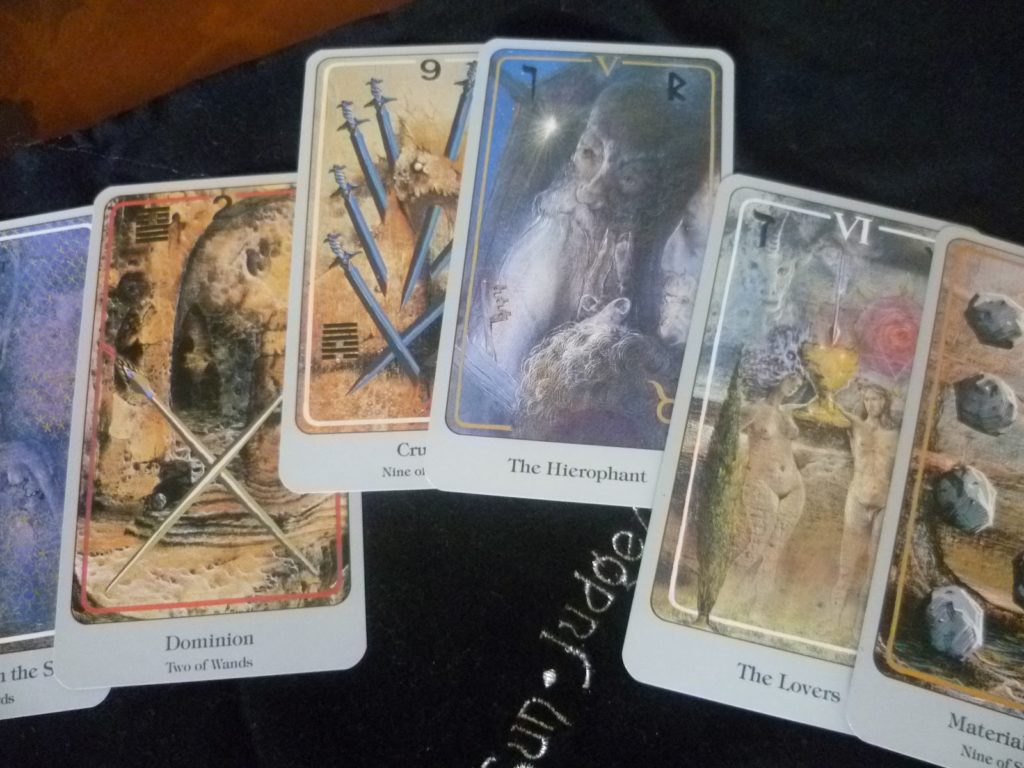 The Hierophant, flanked by 9 Swords Cruelty and The Lovers
"" Please sing out if you would like me to put up a list of which Trump is in each category.