Significator Card | Dame Fortune's Wheel Tarot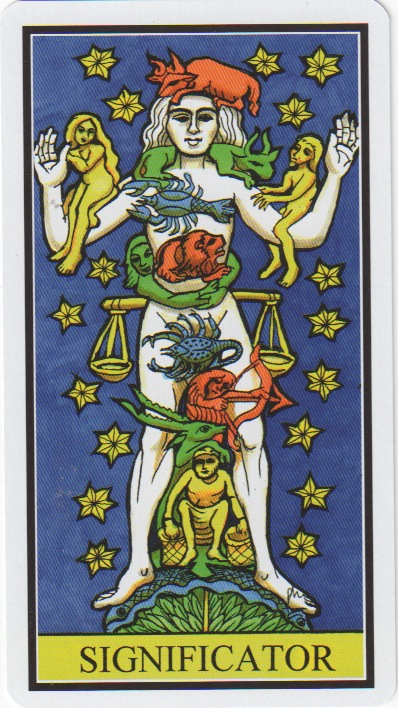 I'm always on the look-out for something interesting for you and this morning I discovered this: Dame Fortune's Wheel Tarot by Paul Huson (published by Lo Scarabeo) actually has a Significator card!
Of course, you may still select a Significator using whichever method you prefer, but what a time- and sanity-saver this card will be!
The deck itself takes the medieval wood-cut style of the Marseilles but expands the colour-scheme and adds a semi-illustrated Minor Arcana to the mix (the pips are presented within a meaningful scene). The suits themselves are Batons, Cups, Swords and Coins with each suit rendered in a particular palette and bordered in the same colour – making suit identification possible from the merest sliver of card.
Anyone familiar with the Rider Waite Smith deck would be able to use this deck very easily, I think.
In the Major Arcana, the card names are traditional – a Juggler and a Female Pope replace the Magician and the Hgh Priestess. I also see that Strength transforms back into Fortitude and occupies the 11th Arcana place, while Justice slips into her traditional 8th position.
I notice that Major Arcana card (Death XIII) is numbered but not titled!
The Courts are sufficiently interesting that they warrant a little blog post of their own.
I was amazed to see that the deck had its own Significator – do you know any other decks that have this feature? Do tell!