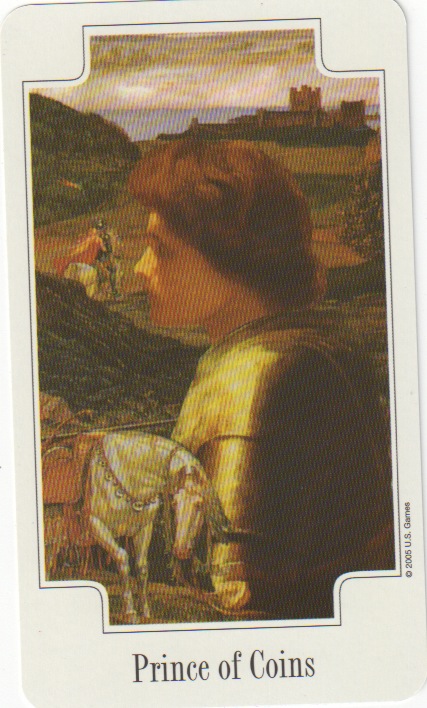 Prince of Coins: Transformational Tarot
Arnell Ando
Before I get stuck in to this blog post there's something I need to say:
HAPPY NEW YEAR!!!!!! *blows party tooter and offers every reader a small glass of sherry*
It's a new year and we tend to commit ourselves to doing all manner of impractical things at New year.
For example, I have a friend who has vowed to do one more sit up every day with a view to being able to do 365 sit ups at the end of the year. And have a stomach like a washboard. We're not even into double digits in January and she has already fallen by the wayside.
I myself have decided to throw myself into my Mid Life Crisis by asking for a Tarot Radio Show on my local community radio station (Radio Bute – Mondays 2pm GMT). I have completed one show – pre-recorded to avoid huge chasms of dead airtime., the jangling of my bracelets and the odd inadvertent profanity. It's not easy, but it's a huge amount of fun!
So, to the exercise – who are you?!

Get a sheet of paper and mark out an equal armed cross. Like this: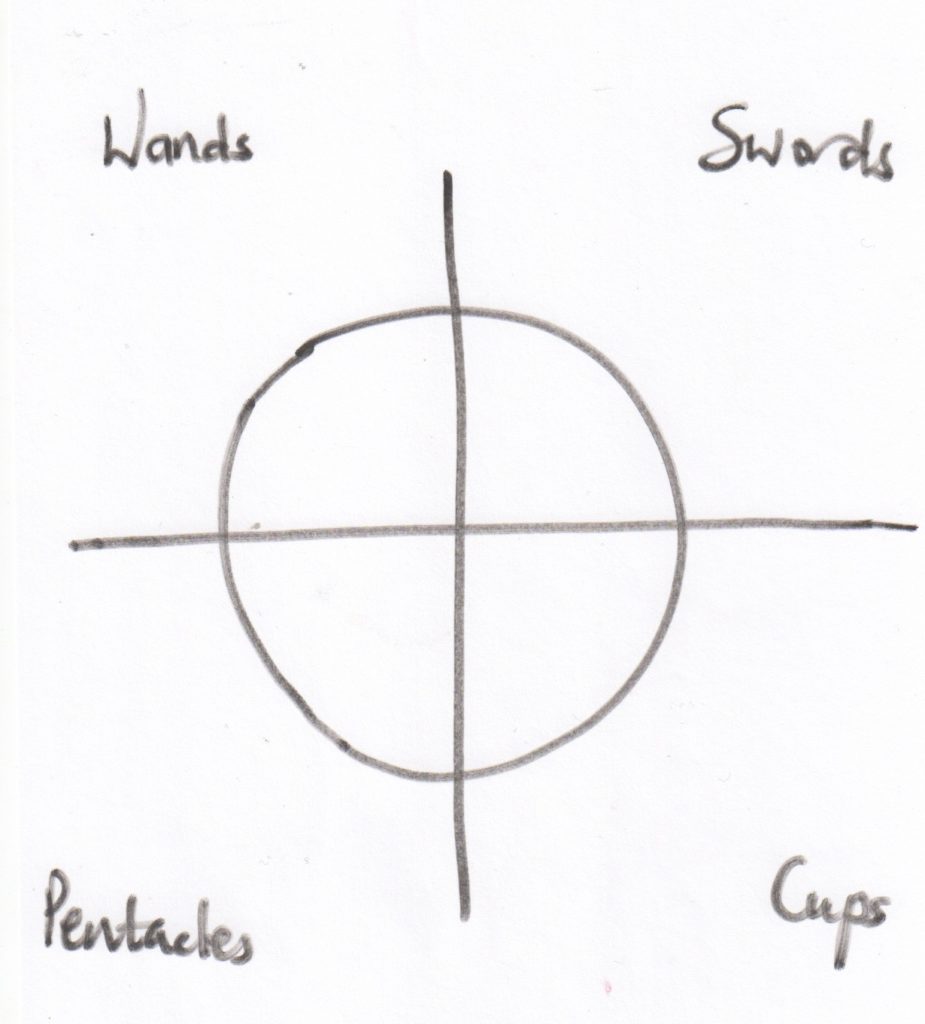 I am a quality artist, right? 😀
A4 size would be good, because you'll be writing on it. Mark the top left quadrant Wands, the top right Swords, the bottom right Pentacles and the bottom left as Cups. Then draw a circle, centred over the crossing point of the cross's arms the radius of which should be about half of the length of each cross arm. So basically you have got a cross with a circle in the middle 😀
Inside this circle represents YOU and outside this circle represents NOT YOU.
Now go and get your Court Cards – find a nice, expressive set for this exercise if you can.
Go through your court cards and write the names of those that resonate with you (ie that you recognise their energies in your life) within the circle in the appropriate quadrant. Those that do not resonate with you, write outside of the circle in the appropriate quadrant.
Once you have done this for all 16 Court Cards, take a look at the following:
1 Is there one suit that dominates within the circle
2 Is there one suit that seems to lie largely outside the circle
3 How is the circle for Suit Yin/Yang dominance (Cups and Pents are Yin)
4 Is there a rank (eg Page, King) that you notice a predominance/absence of in your circle?
5 Is there rank Yin/Yang dominance within/outwith the circle?
6 If Wands are (Yang/Yang), Swords (Yang/Yin), Pents (Ying/Yang) and Cups (Yin/Yin), so you have more cards within the circle on the left hand of the vertical axis (the Yang side) than on the left (Yin side)
Take a close look at your answers – this is how you see yourself!
Everything that lies outside of the circle are qualities that you don't recognise in yourself
Everything inside the circle is what you do recognise
Are you selling yourself short?
Here's what I believe (warning – this is not scientific!). I believe that we are ALL of the Court Cards – but (crucially!) not all the time. If you leave those courts outside of your field of influence (outside the circle) you could be doing yourself a huge disservice. There are lots of wonderful qualities in all the Courts – why not have access to them all?!
Tell me, what ideas do you have that could start integrating these 'outcast' personality traits to your circle?