Feeling like….The Knight of Wands…wayhay!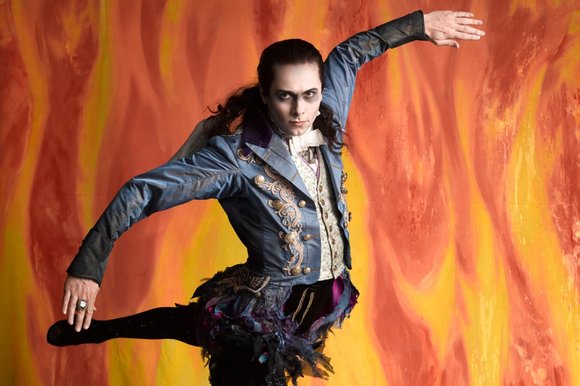 Count Lilac – Matthew Bourne's Sleeping Beauty
It has been half term here – now over, thank goodness!
School holidays are not my favourite time because I still have the same amount of work to do, but only now with a small boy hanging over my shoulder telling me how bored he is.
I sometimes wish that I'd had more than one child – even if they didn't play together well, they could have at least entertained themselves by fighting like cat and dog.
Last week I did something that was entirely Knight of Wands….
….I was sitting at the computer, still fuzzy-headed and bejammied, nursing my morning cup of tea, idly speculating on something that I could do that day with Sonshine that would keep him entertained but that wouldn't leave me stupified. My gaze alighted on an advertisement for Matthew Bourne's Sleeping Beauty ballet.
I'm a big fan of Bourne's Swan Lake (if you haven't seen it – get yourself a DVD pronto! An all male corps de ballet was a BRILLIANT idea).
That very afternoon, within travelling distance of me on the island, there was a matinee performance.
Would my 12 year-old son be interested in a ballet? Did I really care?!
I looked at the price of the tickets – fairly 'spensive. Hmmm – it would be wonderful…..
I threw caution to the wind and I booked two tickets AND a hotel for us. And then realised that in order to make the performance, we would need to be on the NEXT FERRY!!!
Reader, with less than an hour in hand, Sonshine was summoned from his position in front of the telly (I know, I'm a bad mother!) and we both hastily showered, changed and packed a bag. And found ourselves, somewhat breathless, on the 11am ferry!
Sonshine sat gazing around him, blinking in disbelief. 'We did it!'
Totally spontaneous behaviour! I secretly crow and congratulate myself on being the Knight of Wands – impulse, acting on desires, not considering the consequences of my actions too deeply…. ah yes, the work would just have to wait until the following day.
Ah and there's the other thing! I then had to tell my 12 year-old Warhammer-obsessed son that we were off to the BALLET. Which he accepted with much better grace than I imagined. I think that he must have been working his inner Page of Pentacles – embracing a new experience!
Review: Get yourself some tickets to see this ballet – even if it's just for the puppet! Sonshine was (on the whole) mesmerised (having a £1 pair of opera glasses helped!) and the fairies carry the perfect amount of gothic malice that I like to see. Excellent – go and see it!