The Queen of Wands | Darkana Tarot | New Moon Draw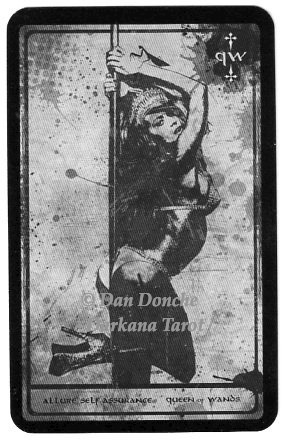 So, what can you expect – the house is freezing cold, I am feeling like death warmed up, I have just had a huge nose-bleed and a mysterious bout of nausea – who else but the Tarot's Queen of Wands to pop me right back on track!
This Queen of Wands hails from Dan Donche's Darkana Tarot, a 78-card deck project manifested by Kickstarter funding.
I rather enjoy the anarchic, splattery ink feel that the cards have.
Unfortunately, I'm feeling a bit anarchic and yes, splattery, myself today.
Dan's Queen of Wands is a complete HOTTIE – a sexy pole-dancing Queen – someone who is very much aware of her own power and confident about displaying it. He includes some keywords for her 'Allure' and 'Self Assurance'
Lemme tell you, sitting here wrapped in many layers of wool, my poor nose throbbing, my throat aching…..the only hottie that I'm interested in is a hot water bottle. I feel about as far from the Queen of Wands energy as it's possible to be! But maybe if I can pull on my gold high heels to go to my Calligraphy class this afternoon, it will make me feel better?….
Does depicting the Queen of Wands as a pole dancer reduce her to a cypher that omits many of the Queen's fine qualities? Or perhaps we should be thinking what other characteristics a Pole Dancer brings to our understanding of the Queen of Wands?
Any thoughts?
*** from Twitter discussion with Kevin @Borntoroar – Dan's Queen of Wands is showing us that her POLE is her Wand! Yeah, we were ON FIRE over there!
Pass the box of paper hankies. If someone could make me up a hot chocolate, that would be very nice *shuffles off to lie down and wonder how on EARTH she can become The Queen of Wands*