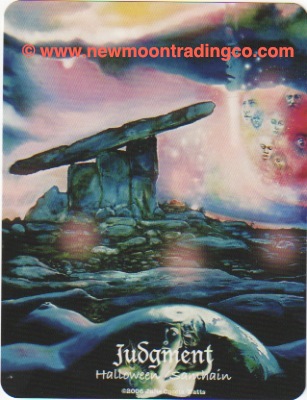 You say Tomato, I say Tomato
You spell it Judgment, I spell it Judgement
Does it matter?! 🙂
Welcome, welcome, welcome!
If you're here because you have hopped upon the Tarot Blog Hop and alighted here from either Stella or Cher's place – I'm really pleased to see you! If you are a regular reader and are wondering about this Tarot Blog Hop thing, here's the facebook details so that YOU can take part in the next one! And, of course, I'm really pleased to see YOU here again too!
The question set to us by the Beltane Tarot blog wrangler, Arwen Lynch, is: What traditions are important to you in how you read Tarot?
Initially, I just stared at the question blankly: I didn't have any traditions, did I? But, of course, I DO have traditions
Here are some of mine:
1 Rider Waite Smith tradition – yes, I like to use decks based on the iconography of the RWS. I much prefer my Strength to be Major VIII and my Justice to be up there as Major XI.
2 Golden Dawn attributes – everything from astrological associations, right through to the Opening Of The Key Spread, this is a whole smorgasbord of traditions that I adore dipping into with the same delight as I might raid your jewellery box. Or your biscuit barrel.
3 Tarot bags and reading cloths – I like to keep my decks in bags and I like to use a reading cloth. There's maybe a bit of the gypsy fortune-teller in me after all – or maybe even a novice Golden Dawner – they liked a bit of shwbiz with their Tarot. Well, what do you expect from a group comprising of theatre designers, poets and playwrights?!
4 Getting in the Zone – I do this lots of different ways. Maybe with a scented candle or incense. Maybe with some unobtrusive music playing gently in the background…..ritual washing, ritual clothing. I even have ritual SOAP! I don't do this ALL the time, you understand, but whenever I need to bring my head away from Facebook and Syria and Bombings and Budget Cuts, I like to go through some of these little routines to get into the Zone for reading.
And they don't do any harm, do they?
Or do they?
Maybe they encourage me to become set in my ways?
I have now pulled out some decks where Strength is in her original setting of Major XI and Justice sits at VIII and I promise *gives girl guide salute* to use these until I am comfortable with either card in either position.
Do I really need to stick to the Golden Dawn's impositions on the Tarot? Will the world fall down if I start to use an older deck, one that doesn't easily fit the constraints of the GD's systems?
What happens if I start thinking of Wands as Air, not Fire?
Or Knights as Fire and not Air?!
*looks around – the world still spins on its axis!*
Let's challenge ourselves and our beliefs – welcome the new and embrace it if it is a truth to YOU. There is no one 'right' way to work with the Tarot – so you use it for fortune-telling, someone else uses it as a writer's prompt, yet another uses it as a tool for self-development, someone else uses it to build fabulous card towers!
Tarot is a mongrel puppy – hailing from Europe and North Africa. At every turn it has been modified and changed – let's not ruin that fluidity of growth by letting our traditions solidify into dogma.
Of course, the whole shebang needs to end with a spot of theatre……. altogether now! 'Traaaaaadition!!!!!!'
Now, shoulder-shimmmy your way to the next blog and, if you've a mind to do a bit of work with the Court Cards, come back and see us here!
Previous blog – Stella at US Games Ltd
Next blog – Cher at Tarot by Cher
Broken links? Here's the master list