Salvador Dali | Tarot in Art | King and Queen of Swords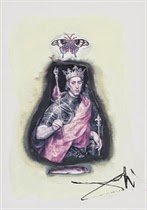 I first fell under the spell of Salvador Dali via his magnificent Christ of St John which was bought (amidst great public hooha – petitions and irate letters to the newspapers) for Glasgow City Council's Kelvingrove Museum in the 1950s.
I regularly visit the museum to visit the quiet and contemplative little space they have created for the painting.
From there I was entranced by soft watches that melted like plasticine on a radiator and spindly-legged creatures that roamed fantastical landscapes. And amidst the hurricane of clever visuals that appealed to children and art collectors alike, he created a set of Tarot cards.
And no, I don't own a copy…… *weeps sadly into her morning coffee*
……YET *flicks gaze sideways to make sure hubby isn't listening*
The deck was published when the artist was 80 years old – a tribute to his wife and muse, Gala .
I came across these two beauties which were sold at Christies in London back in 2008. They had been bought from an anonymous seller five years earlier (also at Christies) and were now being sold by the Judith and Abraham Amar Foundation, in aid of charity.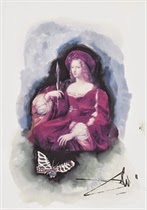 Dali's work is not always actually Dali's work, but this King and Queen have been authenticated by the late Robert Descharnes and his son Nicolas, both internationally acclaimed experts in Dali's work.
The two images are about A4 sized and are gouache and collage on paper. With their butterfly motifs, these were both intended to be the images for his Tarot deck's King and Queen of Swords. However, in the completed Tarot deck, the King has lost his butterfly motif and has been transformed into the King of Cups.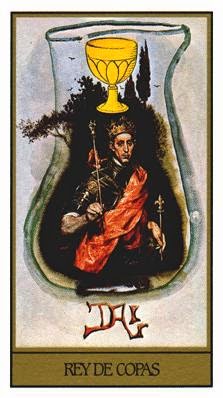 And their sale price?
Queen £12,500
King £10,625
You're going to need more than a paper-round to finance your Tarot in Art addiction 😀
Ever purchased a bit of Tarot art from an artist that you love?