Tarot in Art | The Tarot Card Reader | Artist Unknown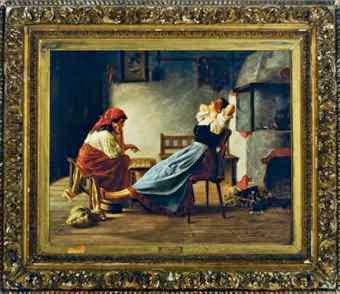 We find ourselves in a kitchen where a young woman stretches out on a chair as the Tarot card reader explores her fortune. It's funny, isn't it? No matter how many centuries separate us, the pose for expansive day-dreaming remains unchanged!
This particular illustration of Tarot in art is by an unknown artist (well, there is a very indistinct signature down in the right corner, apparently). It dates back to the 1800s and was sold at Christies in New York for £1,500.
I wonder what the Tarotist is telling her – perhaps how strong and handsome will be her husband? How happy they will be – will he bring her lots of money and fine things? Or lots of glorious children to hug and kiss? Is that an empty bread basked lying on the floor behind her? A pot boiling un-watched on the stove? Is she neglecting her household chores in favour of a day dream?!
And what of her card-reading friend? They do say that one of the signs of lying is fiddling with your ears – what is she doing with that right hand as she points to the cards with her left?
I think of Cinderella dreaming in the kitchen when I see this image, what about you?
I can't zoom in on any of the detail of the painting (and, of course, I am typing without my specs on – oh vanity, you are a terrible mistress!) but if YOU can, I'd love to know what else we can see in the painting?