Tarot in Art | Queen of Pentacles | Visconti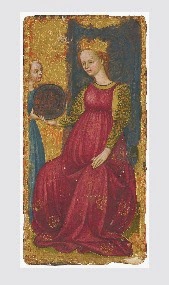 "Here, you take it, my arm's getting tired!"
On my frequent forays into the dusty art vaults at Tarot Thrones to bring you something lovely to see, I found this gem tacked on the floor behind the door behind an ancient pile of Radio Times magazines.
This is the Queen of Pentacles, or 'Reine de Deniers' to give her her sale title, who was sold at Christies in Paris back in 2005.
It is attributed to The Master of the Visconti Tarot (mid 15th century) and is gouache on board, with gilded highlights.
Seated in front of a draped blue banner, we meet the red robed Queen. She wears a golden crown to denote her rank and is depicted with her Coin held aloft in her right hand. Although she looks a bit pregnant, I suspect that is just the fashion of the frock.
Just off to the left of the card we an see another figure who is either handing the Queen her Coin or receiving it from her.
It's a beautiful little image that measures 168mm x 63mm
The card was estimated to sell at $33,549-$46,968
It actually sold for $376, 817!
Am I the only woman who wishes that Empire line frocks would come back into fashion so that we too can sit and let our tummies relax like the Queen of Pentacles.
Also crowns. I would like a crown……