Poldark | King of Hearts?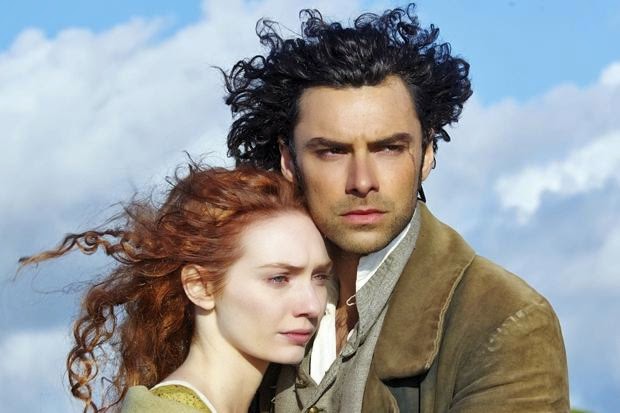 Ross and Demelza
Well, he's exceptionally easy on the eye, isn't he? In case you have been living under a rock (or in America *waves to the cousins over the pond*) let me bring you up to speed:
The 1970s BBC TV drama series, Poldark, has been remade with the smouldering Aiden Turner as the eponymous hero. Captain Poldark returns from the American Civil War after an absence of 3 years with an amazing scar and Elizabeth, his beloved, on his mind.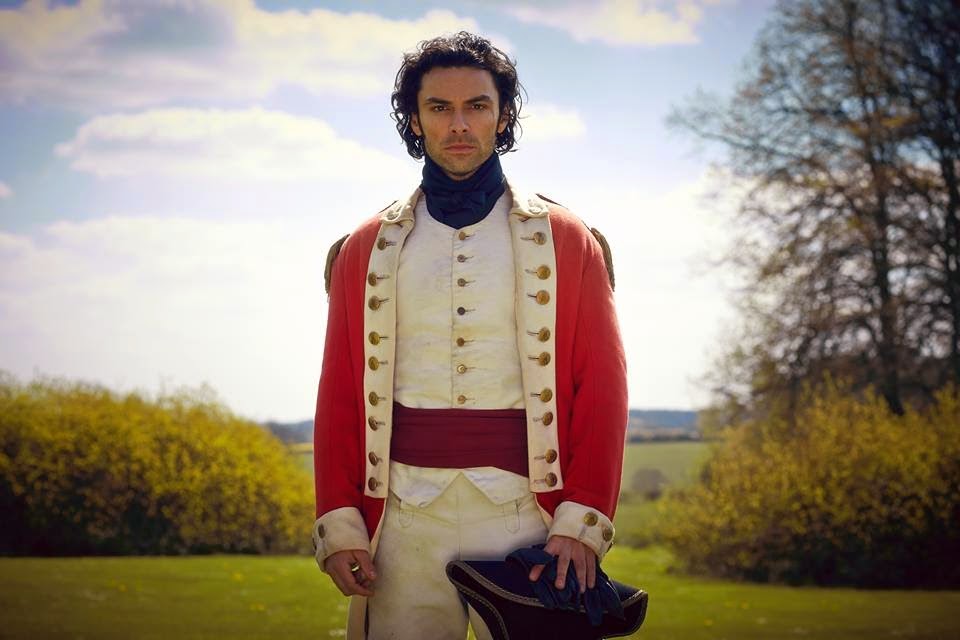 Here he is in uniform. You are welcome.
He is no sooner plonked in a chair at his uncle's house (the man hasn't even stopped to have a wash or shave – which makes him even more touselled and utterly divine) when he discovers that Elizabeth is now set to marry drippy cousin Francis. Well, he had been gone for a LONG time and the poor girl thought he was dead.
In Poldark, there is much in the way of galloping over the Cornish clifftops – dark hair streaming behind him, his (frankly) GODLIKE visage darker and stormier than a night at sea. Chuck Heathcliff and Mr Rochester into a blender and flick the switch: you would pour out Captain Ross Poldark…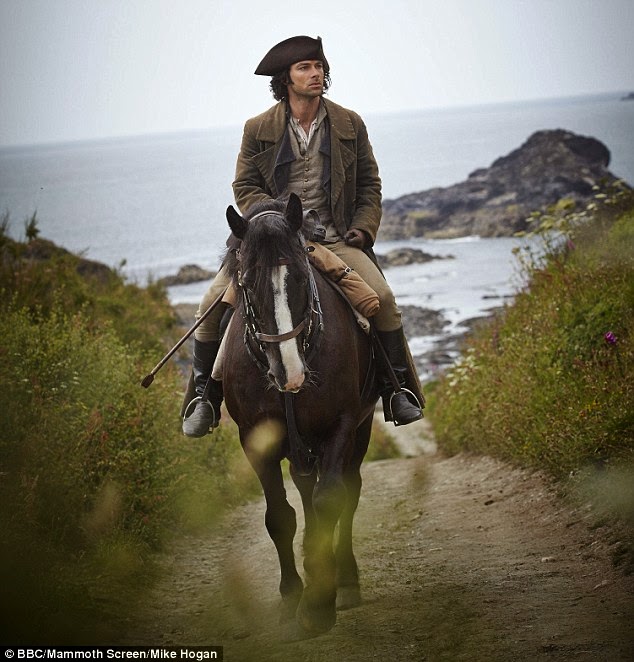 Here he is again. Because: I don't need a reason.
If the characters are not galloping across storm-tossed clifftops, then they are standing looking out to sea (waiting for the herring).
He rescues a boy from a beating in Truro and discovers that when out of the baggy trews and unbecoming hat she is actually a 18th century version of Lily Cole – fiery of hair, blue of eyes and winsome of smile. Only with a flatter chest.
Poldark sees the suffering of the ordinary man in the field. Or mine. And resolves to make things better. He re-opens Wheel Leisure (The Wheel of Fortune if there ever was one!) and gets his people back to work, but looking for copper, not tin.
And on Sunday, Demelza pulled on a lovely frock that just happened to make her hair even more fiery and her eyes even more like sea-glass and poor old Ross could not resist.
A quick roll on the bolsters and lo! They are married.
So, which court card is Ross Poldark?
Well, he's several of them, actually – just as you would expect of a multi-layered and realistic (albeit stunningly, wolfishly handsome) character.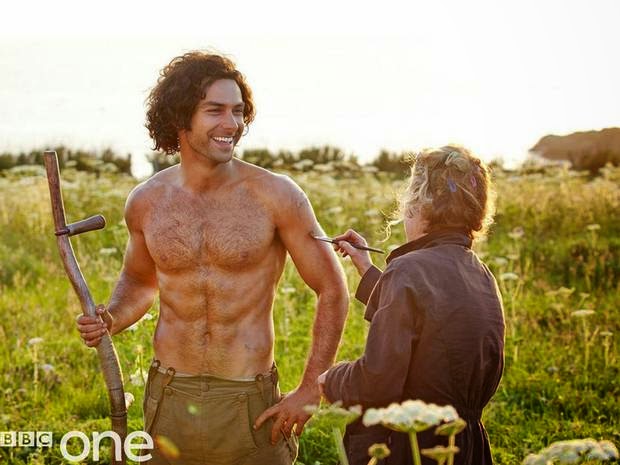 'Parently he wasn't happy when the BBC released this image of him topless.
I'm not complaining ….
In his treatment of his tenants and the poor, he is generous and sympathetic – handing out jobs and houses. In caring about people and SHOWING he cares about people, he is the King of Cups.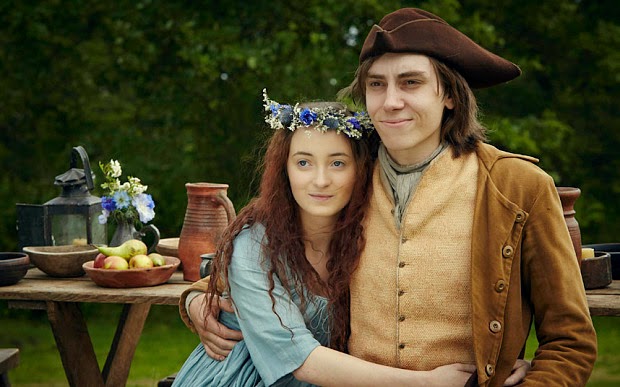 Grateful tenants getting married.
Ends up in pokey for 2 years for not listening to Cap'n Poldark's anti-poaching advice.
His heart still beats faster for the Elizabeth and her billowing pillow lips, but he also beds the innocent Demelza (oh don't worry, she's as keen as mustard to do it). And then marries her.
He has loved Elizabeth for years – and I'd associate that steadiness with the suit of Pentacles. But he is fairly quickly smitten with Demelza and marries her in the space of about 3 minutes. That's rash and impulsive action and that's Knightly. So I'm going to go with the Knight of Wands for this one (edit: I had originally written Pentacles in error! Put it down to my Poldarkian excitement! Thanks to Viv for the heads up!)
He reopens the Wheal Leisure mine – he uses his Swords logic and communication skills to persuade men to invest in his new venture – mining copper instead of tin. King of Swords, I think for that one. Or, because it is a new and untested venture, is the Page of Wands more appropriate?
And when the mine is open, he can be found every day, deep in the mine, working alongside his men, leading by example …..working in his white shirt, delightfully sweaty and hands-on with honest toil. For me that's Pentacle energy!
He's a marvellous mixture of traits – as REAL people are.
Demelza to follow…. 😀
So, even if you haven't seen this series, but know the Robin Ellis series, chip in with your observations of the lovely Captain!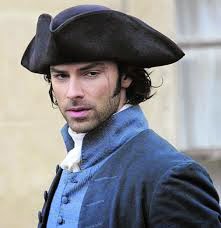 All men should immediately return to wearing long hair and tricorns….
Frock coats also welcome 🙂