The Visconti Sforza Tarot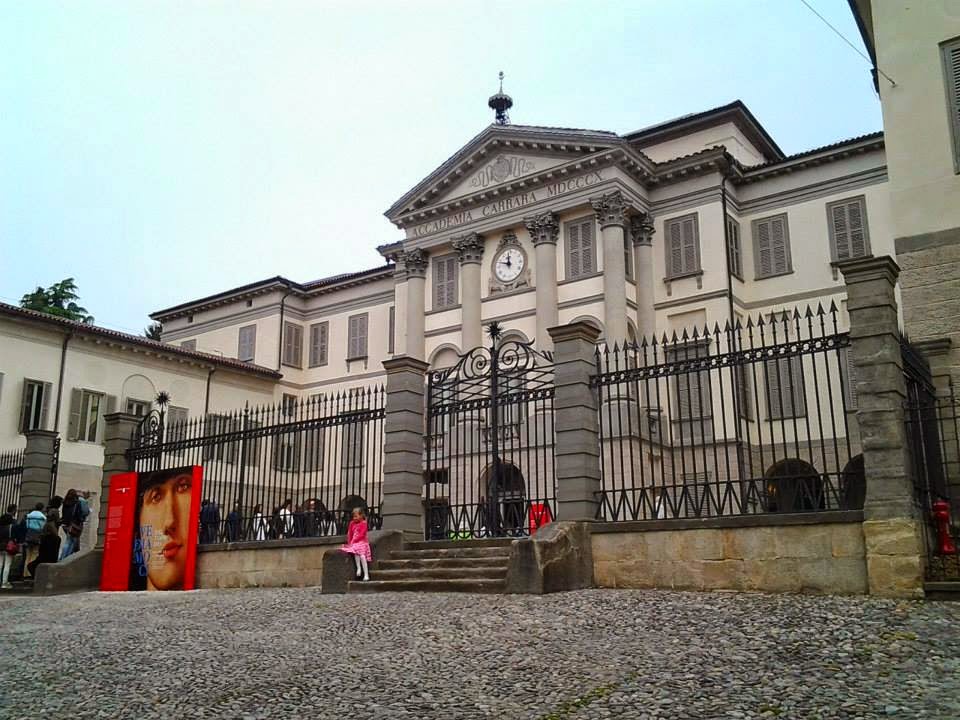 Academia Carrara, Bergamo
Milan was just as shimmeringly hot and magnificent as it was when we arrived a fortnight earlier. My God, how had two weeks passed so quickly?! We rendez-voused (is that even a word?!) together outside the jaw-droppingly OUTSTANDING Cathedral (these Italians, they never knowingly-under statue anything).
It was time for our close encounter with the Visconti Sforza!
Just to the right of the Cathedral, in the former palace that is the Palazzo Reale, an exhibition detailing the life and times of the Lombardy Viscontis and Sforzas was running – and deep within the bowels of this exhibition were the Visconti Sforza cards!
We paid our money – E12.00.
Reader, I would like to tell you that I spent a relaxed and happy couple of hours in the exhibition, but I strode straight through the exhibit halls – the portraits, the madonnas, the landscapes, the precious artefacts, the jewellery and went STRAIGHT to the dimly lit case that held the Visconti Sforza cards.
I gingerly brought out my camera and popped the buttons so that the flash would not discharge. Out of nowhere a young man with a very hip beard materialised: 'NO CAMERAS!!!" he said, sternly.
"Not even with the flash off?" I wheedled, giving my best 'FOR GOD'S SAKES, I'M ONLY A TOURIST' expression.
He looked at me with his 'I see your Only A Tourist Expression and I raise you my Just Try Switching On Your Camera Again' expression.
I admitted defeat and simply stood with my nose pressed against the glass, desperately trying to burn the images and their glory onto my retinas.
There weren't too many cards – 12 I think. They were utterly glorious, and a lot bigger than I had anticipated. The paintings were set off beautifully by their gold (for Majors and Courts) and silver backgrounds (for the Minors). I could have wept at not being permitted to photograph them.
Another tour member arrived and she too brought out her camera. Moustache Man sprung out and waggled his finger "NO CAMERAS" She too rested her head against the glass and whined in frustration.
One of our number DID manage to take some snaps on her ipad, but I figured that since I'd been expressly forbidden to take a photo, deliberately countermanding his warning and taking photos regardless might result in me being banished from Lombardy. And who wants that?!
Then we hit the gift shop and I bought 'Il segreto dei segreti' about the Sola Busca Exhbition of 2012 and ANOTHER copy of the Visconti Sfoza Tarot (I already HAVE a copy!), but neither of them do justice to the glowing golden backgrounds. But hey, you can't have everything in life…
…or can you?!
Il Meneghello has JUST (actually, for our final evening of the Tour!) produced a version of the Visconti Sforza deck that is, by all accounts, very beautiful – you can explore it here, if you fancy a copy!) The deck is 67 cards and is based on the Modrone (aka Cary Yale Visconti)
But for those of us who couldn't afford the divine Meneghello deck, all was not lost! For we had one more trip out of the city to take – back to beautiful Bergamo to the newly refurbished Academia Carrara and THEIR collection of Visconti Sforza tarot cards!
The Academia had been closed for refurb for eight long years and had only opened at the beginning of that week. We hopped off the coach and joined the end of the very long queue.
Actually, it wasn't too long before we were at the front of the queue – having 30+ people to chat with makes time fairly whizz by. Also, the delightful Juliette Sharman Burke went exploring to a bakery and brought me back a little snackeral. Which also makes life better 🙂
We made our way, respectfully, but hurridly, through the magnificent treasures of the Academia and found ourselves, once again, standing before the cards of the Visconti Sforza.
"Erm, can we…. take pictures." we asked gingerly.
"Yes, but no flash." smiled the guide. Oh I could have kissed that lady! Hollywood red-carpet goddesses could not have been snapped any harder than we papped those cards!
Sadly, my battery gave up the ghost after a couple of shots. Yeah, bloody sod's law, isn't it. But here are a couple of images, taken by some of my merry band of travellers. I would love to credit them for their photos, so if these are YOURS, sing out!!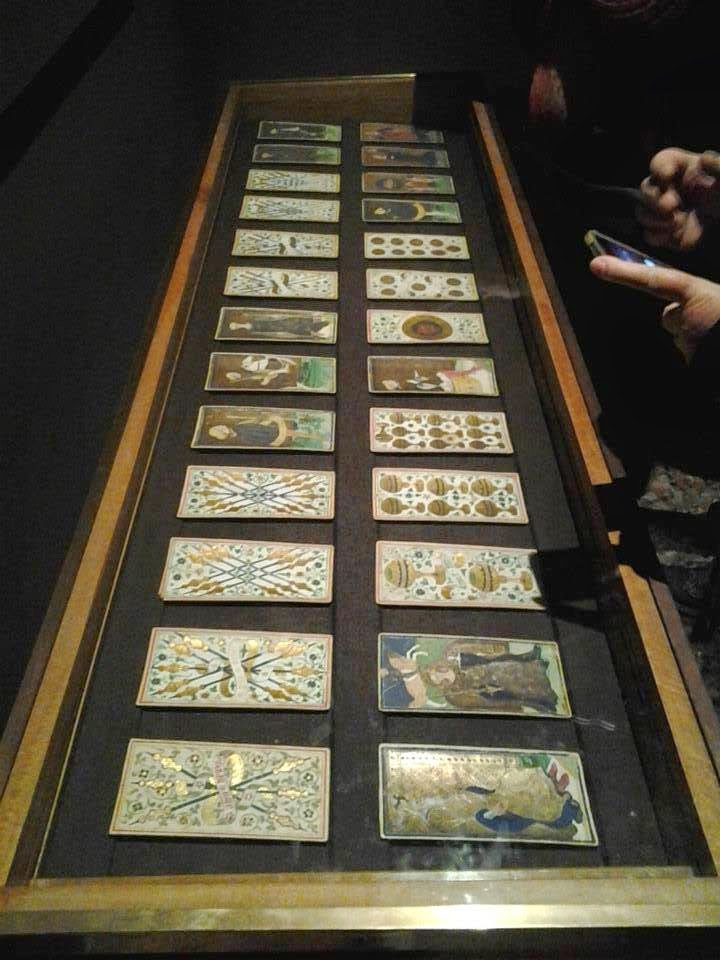 Feast your eyes on the gorgeousness and WEEP!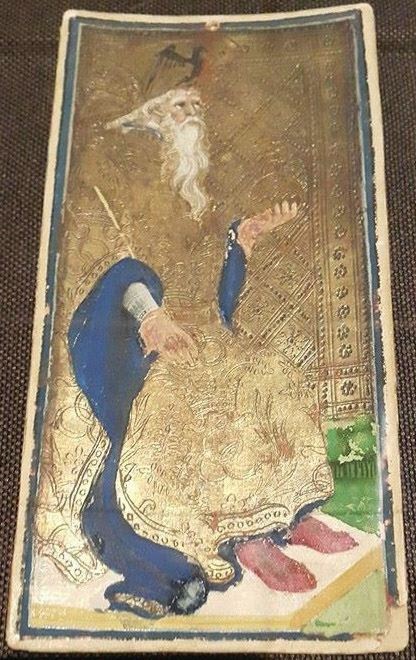 The Emperor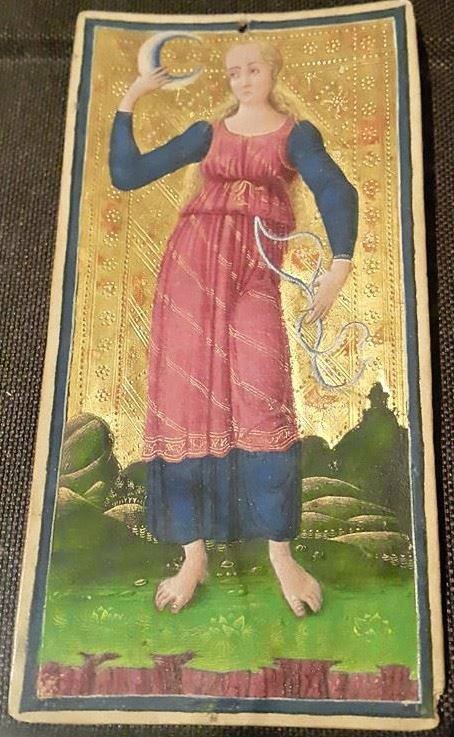 The Moon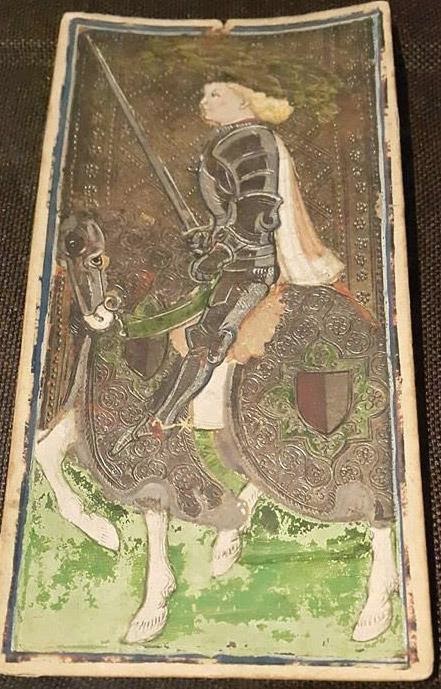 Knight of Swords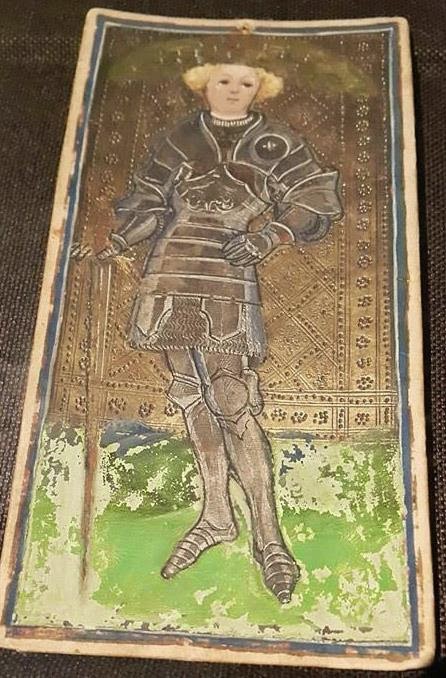 Page of Swords – attitude and a MASSIVE hat
So, in the end we DID manage to photograph the Visconti Sforza.
And with that accomplished ….. it was just about time to go home 🙂
What do you think of the cards? And if they are your photos, let me know so that I can add your details!