The Tarot of The Masters | Lo Scarabeo
I am getting to grips with my imovie, although not quite confident enough yet to hit you with the full effect of my Glasgow accent. But maybe one day 😀
Anyhoo – here is my latest offering, based on the court cards of Lo Scarabeo's Tarot of The Master. A really pretty deck that, I think, I heard about from Anastasia Hayler. It's a 78-card deck with semi-illustrated pips that are absolutely charming!
It was originally published in Turin in 1893 with the title 'I Naib di Giovanni Vacchetta'. This version was re coloured and published in 1992. This title interests me because the name for the 15th century Mamluk game of cards that became the Tarot's Minor Arcana was known as Naib too 🙂
So, let's talk about those Pages.
Four youthful characters, each holding the symbol of their suit are depicted in a scene that is associated with the keyword for their card
Page of Wands – Message
Page of Cups – Offer
Page of Swords – Loyalty
Page of Coins – Reflection
Interesting to see the Sword used purely as a symbol and not as a weapon throughout the courts of this deck.
When we move on to the Knights, we see each character on horseback. However, we see the Knight of Wands depicted as a Jester – with bells sewn on to just about everything.
Knight of Wands – voyage
Knight of Cups – Poetry
Knight of Swords Boldness
Knight of Coins – Responsibility
So far the Swords are coming out of this quite well as far as keywords are concerned, which is refreshing!
When we move on to the Queens though, this start to feel a bit wobbly…
Queen of Wands – Innocence!
Queen of Cups – Nourishment
Queen of Swords – Determination
Queen of Coins Wealth
Let's just back up a little there… Queen of Wands is innocence! That's a far cry from how we tend to see her these days – all knowing, sexy and dangerous. And the Queen of Cups, shown in a kitchen setting taking a welcome drink as she toils amongst the roast chickens, more closely resembles what we might associate with a contemporary Queen of Pentacles. And the Queen of Swords is depicted as Judith … a headless corpse lies in the tent behind her, no guessing which bit of Holofernes she's got in the bag. And not a hair out of place either! Yet she carries her bloodless sword by the blade… The Queen of Coins is sitting with her back to us – she's been too busy working at her yarn balling to pay close attention. She holds up her Coin, waiting to get back to work!
So on to the Kings:
They are all depicted as older, more mature men, with the exception of the King of Swords who is young, armoured and unbearded.
King of Wands – Nobility
King of Cups – Celebration
King of Swords – Authority
King of Coins – Undertaking
I adore the slightly squiffy-looking King of Cups who has clearly been celebrating quite a lot. The King of Coins stands with his wrists bare, hard at work literally MAKING money. The King of Wands uses his ceremonial wand almost like a walking stick.
It's a lovely deck to handle with glorious recolouring of the cards by Lo Scarabeo. Some foxing is incorporated into the cards to keep them aged looking.
This would make a great deck for someone who was thinking about exploring cards that have semi-illustrated pips.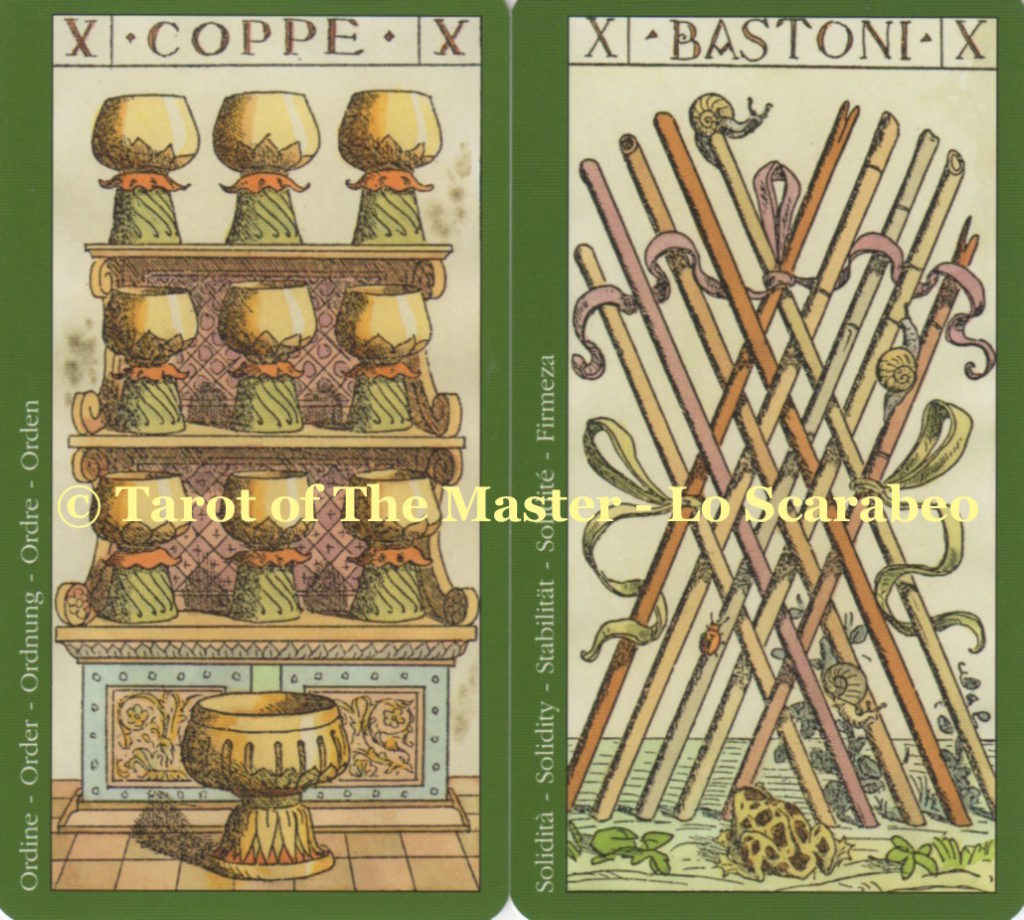 if you click this image you can go straight to Amazon!
What do you think of it? What do you think of the imovie?!
I've got hardly any followers on my
youtube channel
(well, only 4 videos so not exactly unexpected lol!), but if you could become a subscriber to the channel, it will cheer me up no end 🙂