Tarot Cheat Sheet Poster | Court Cards
On facebook, the adverts that I usually get are for Mature People's Insurance, incontinence pants and sometimes holidays for the elderly. None of which attract my attention in the slightest. OK, maybe the incontinence knickers these days …
But today, THIS popped into my timeline: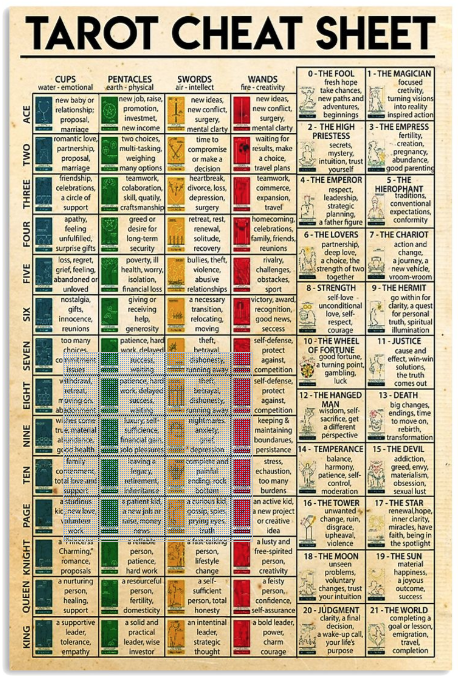 I think that the blue rectangle on it is something to do with the way I captured the image, so sorry about that!
I was interested in what the poster said about the court cards, so here it is:
COURT CARD INFORMATION FROM CHEAT SHEET POSTER
Page of Cups – a studious kid, new love, volunteer work
Page of Pentacles-a patient kid, new job, money news
Page of Swords – a curious kid, gossip, spies, prying eyes, nerves
Page of Wands – an active kid, new project, creative idea
Knight of Cups – A prince charming, romance, proposals
Knight of Pentacles – Reliable person, patient, hard work
Knight of Swords – A risk-taking person, lifestyle change
Knight of Wands – A lusty and free-spirited person, creativity

Queen of Cups – nurturing person, healing support
Queen of Pentacles – a resourceful person, domesticity, family
Queen of Swords – a self-sufficient person, total honesty
Queen of Wands – a fiesty person, confident, self-assured
King of Cups – a supportive leader, tolerance, empathy
King of Pentacles – bold and practical leader, wise investor
King of Swords – an intentional leader, strategic thought
King of Wands – a bold leader, power, charm, courage
So, these definitions are all a-ok with me – although not sure what an 'intentional' leader is about.
What I really like about the poster is that there are no personal pronouns – there is no assumption that Queens are 'she' nor Kings are 'he'. Something I've already written about HERE
I don't recommend you buy the poster though – there are entries that are duplicated in it, sadly.
If you would like to read it and buy it – HERE is the link.
I'm not on commission. As you might have guessed by my advising you not to buy it lol!