The Moon Oracle | Caroline Smith | John Astrop
There are a few lunar oracles about, but this reprint of the Moon Oracle by Caroline Smith and the late John Astrop is well worth exploring.
Originally published in 2000, it has been given a bit of a repolish and rebox and is now available to buy in a lovely silvery grey presentation box, from Eddison Books.
The 72-card deck comes with a box-sized companion book of 129 pages. There is good and clear information to let you start working with the cards almost as soon as you have them out of the box!
Even better, there are lunar tables at the back of the book that now go up to 2032, so you'll be able to use this deck for quite some time!
I would point out though that it was created for Northern Hemisphere work, so if you are Darn Under (g'day Aussie, Enzed and Tazi cousins btw) you'll have some mental jiggling about to do.
This is an Oracle and, as such, not structured the same way as a Tarot, but it does have three distinct Arcana:
32 Lunar phase cards
28 Lunar Mansion cards
12 Lunar Goddess cards
The 32 Phase cards correspond most closely to a Minor Arcana – there are four 'suits' based on the Elements – Earth, Air, Fire and Water – and each suit has eight lunar phase cards that run from the Dark Moon through to the Full Moon and back again. Each of those eight phases corresponds to a type of plant energy – seed, bud, leaves, flower, fruit etc. Each card is then allocated a keyword based on the quality of that energy (seed energy – the Balsamic, waning Fire Moon) and how it might interact with the Suit. So, the Seed card for the Fire suit is given the keyword of Compromise – which sort of fits with a waning Fire energy, I think.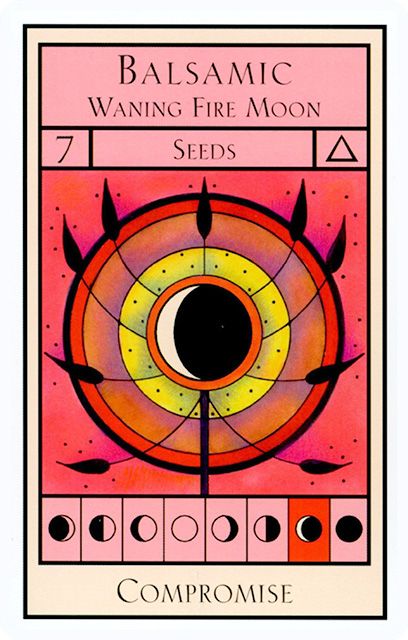 The accompanying book explains how to interpret the card, depending on which of the three astrological signs you need. In the example above, I'd be looking for the Leo information.
There are 28 Lunar Mansion cards. There is a key word provided for each card, based on the astrology of the card – here it is MASK. The card is governed by Mercury and Uranus (info on bottom left of card) and covers 25.43 degrees of Capricorn to 08.34 degrees of Aquarius (bottom left).
The book entry for the Moon Mansion cards begins with a description of the card – so that you know what you are looking at. Then some myth or lore around the card and then concludes with a couple of paragraphs about the meaning of the card. This one, for example, indicates 'eccentric, unusual or even deceitful thinking' and that when it comes up in a reading 'somebody is lying' and more besides, but that's the gist of the thing!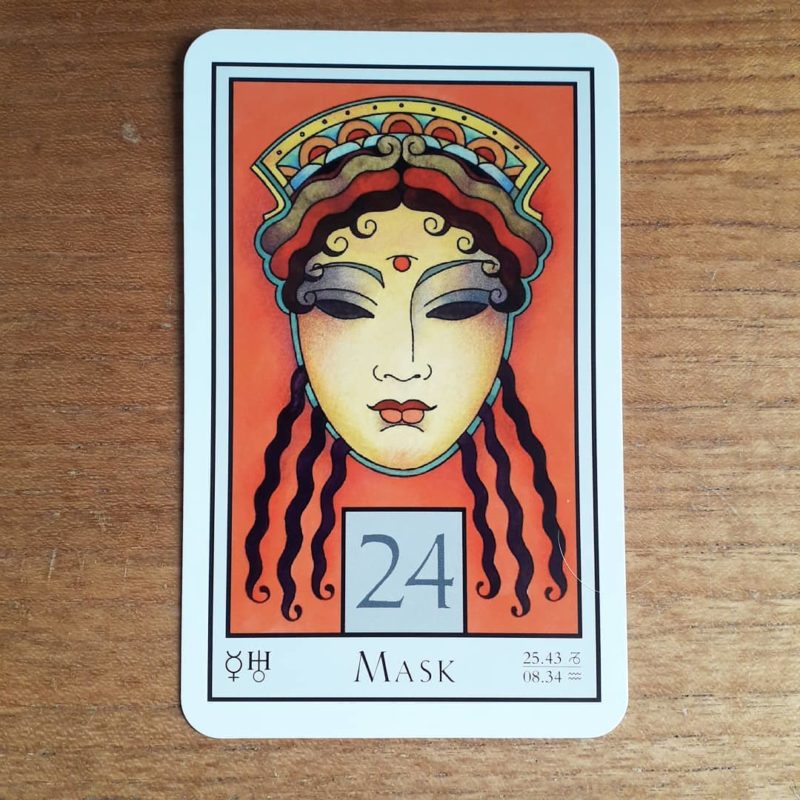 The Lunar Goddess cards are probably most like the Tarot's Court Cards and are very beautiful! There are three categories of Goddess – White, Black and Red Goddesses.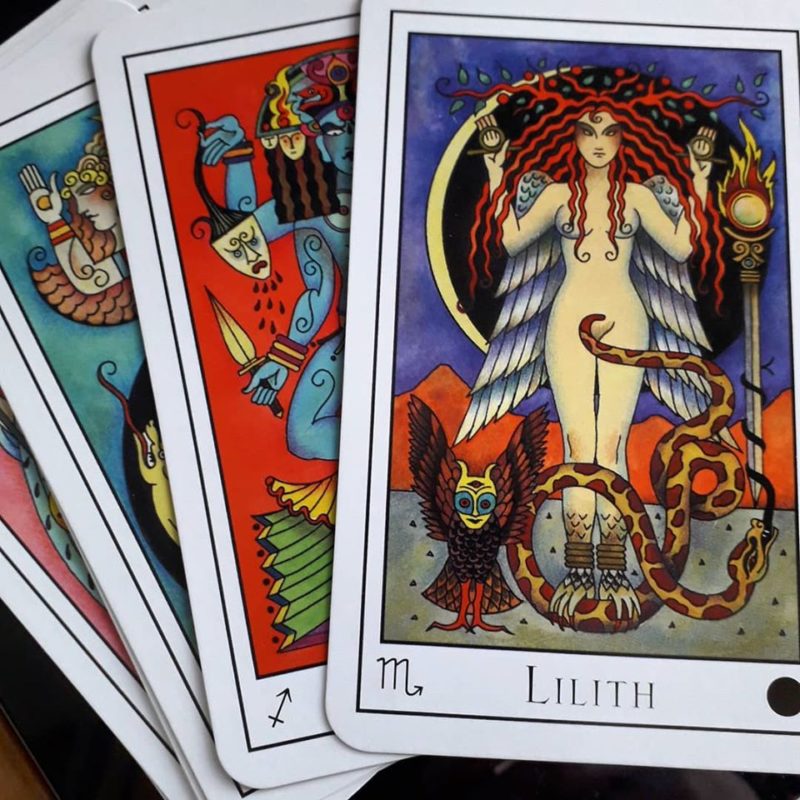 The Black Goddesses are associated with Death and Rebirth (the astrological signs of Scorpio, Sagittarius. Capricorn and Aquarius).
The Red Goddesses are associated with Preservation (the astrological signs of Cancer, Libra, Virgo, Leo)
The White Goddesses are associated with Creation (the astrological signs of Pisces, Aries, Taurus, Gemini)