Say hello to…..The Page of Pentacles | Ferret Tarot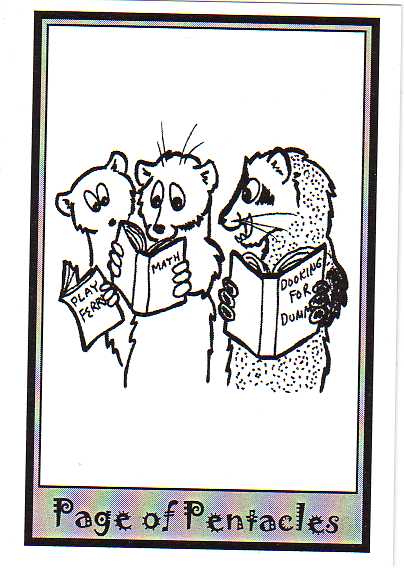 So the moon has just gone dark which is my regular cue to pick a Court Card that will represent the incoming energies, or energies that I would do well to embrace, until the moon becomes full in June.
This week I'm devoting my blog to Court Cards that feature animals (I've already had a Page of Swords from the Baroque Bohemian Cats Tarot published by Magic Realist Press) and there are lots of lovely animal-orientated decks out there!
The card drawn for the coming period is taken from the Ferret Tarot by Elaine Moertl (they do a Majors only Chat Du Marseille Tarot too. Features cats. Obviously. I don't have one *sigh* <- hint)
Here we've got the Page of Pentacles.
He stands with his text book open, looking quite pleased with himself. Unlike the other two who wear the same panicked expression as myself myself on the day of the Standard Arithmetic exam back in the day. I thought that the exam was on the Monday, it turns out it was ALSO on the Friday before. Oh yeah, sitting an exam without finishing your prep. Scary stuff!
The little ferret that is the Page of Pentacles has no such fears. The cheat sheet that comes with this little self-published deck says: ' I studied for this, did you? I know a lot.'
So this Page is a cocky little guy, thinks that he's got all the answers. I could do with a little of his chutzpah rubbing off on me for sure!
I'm not greedy, I would settle for knowing just SOME of the answers!
Generally though, I associated this Page with learning (that's his Paginess) but in a more hands-on way (the practicality of Pentacles) so rather than having all the answers because he's studied from a book, I would hope that he's getting the answers because he's getting some practical experience.
Book learning would be more a Page of Swords thang, I think.
He is also urging us to have a bit of fun – and I could do with a bit of that – physical fun! Not the quippy wordplay that Facebook encourages…. but horse-play, practical jokes, having a LAFF.
Oh yes, bring it on little Page, bring it ON!