Welcome to This Game of Thrones, my blog about the Court Cards of the Tarot. Chances are you have alighted here as a stop on the Tarot Blog Hop from either Donna Faber's blog or Priestess Tarot's blog. Heck, perhaps you wafted in here from Twitter or Facebook links and haven't a clue what the Tarot Blog Hop might be!
The Tarot Blog hop is where a whole load of Tarotists (what is the collective name for a bunch of Tarotists anyway? a Fool of Tarotists? A World of Tarotists?!) blog on the same topic, relating it to Tarot or Oracles in whichever way the Muse moves them. We all post at the same time (that's the theory and the challenge lol!) and link together like a daisy chain. Today our subject is: Celebrate The Sunrise.
Today, the Summer Solstice, is the longest day, and along with the Winter Solstice, these two tend to be the dawns that we consider significant amongst the other 363. But surely EVERY dawn is worth celebrating?
'Every day you waken up, you're winning' is a quote, from goodness knows where, which I hold very dear.
So, my question today was, how can we best celebrate our sunrise, not just today, but every day?
I selected a court card at random from the Gaian Tarot by Joanna Powell Colbert. The card drawn was the charming Child of Earth. Standing in his verdant green woolly sweater beneath a great apple tree, the little fella is completely engrossed in the scarlet apple in his hands.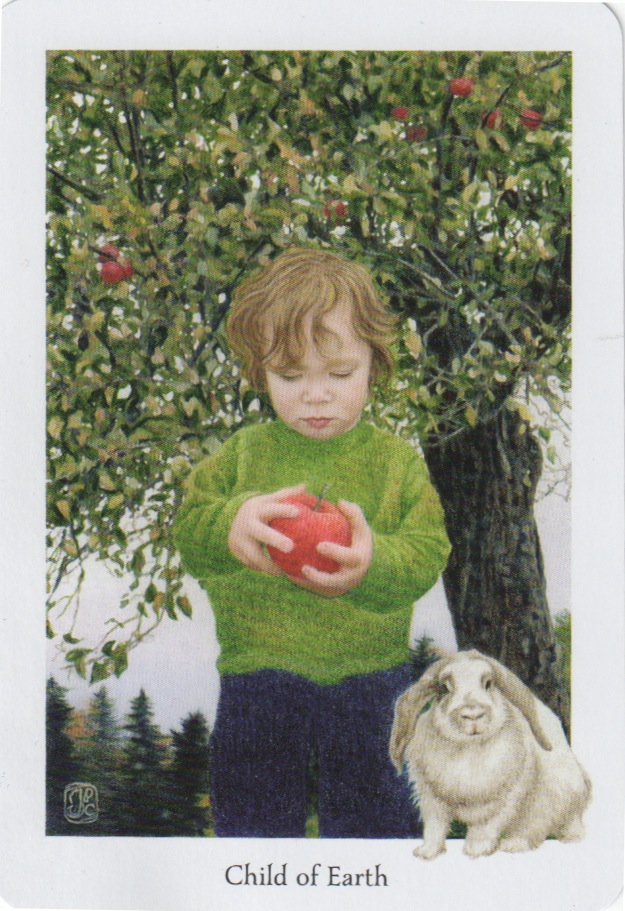 In this deck, the Child cards (equating to the traditional Page) all ask us to approach life with 'Beginner's Mind'.
I like that, for me there is no better way to look at a sunrise as an opportunity to start afresh; for us to look at life with new and curious eyes. We can choose to drop our baggage of experience and refuse to let our previous encounters taint our enjoyment of the new day.
And of course this works on other levels.
We all have our own particular sunrises, those things that light up our lives with hope. The could be our families, our faith, our career, our hobbies – the thing that makes your life worthwhile! The Child looks at that apple as if he's never seen it before, appreciating it for the miracle that it is. And he urges us to do the same.
Be honest, we tend not to do that. Just think – I wrote this on a little box in Scotland and you are reading it on your own box somewhere else in the world. We are linked together by cables, plugs and, frankly, magic! We have SO much magic in our lives that we no longer see because we have grown complacent to it and accept it as 'normal'. We can fly like birds to every part of the world! We can switch on a box in the corner of the room and watch a football match being played live on another continent (obviously there is WAY too much Euro 2012 footie on the telly!)! We eat fresh vegetables from distant counties (and countries!)…. our lives are filled with the most amazing and wondrous things. And we tend not to bother about them 🙂
One of the things that lights up my life is my recently-found pleasure in learning to playing the keyboard. Beethoven I'm not, but I really enjoy plinking away at Killing Me Softly or Danny Boy. Mind you, I'm not sure whether my family enjoys it QUITE as much as me. The Child of Earth prompts me to appreciate how far I've come, how much fun I have with it, and to take delight in the noise that I make!
The Child card urges us to keep that personal sunrise fresh, unjaded, curious and fun. Approach your own sunrise as a miracle for your day, just as the sun rising over the horizon is a miracle to ALL our days!
The Child's companion animal, the rabbit, is often found at dawn and dusk 'when it is easiest to slip between this world and the Otherworld,' Joanna reminds us.
Most of the time we don't give much thought to sunrise or sunset – we sleep through the former and the latter passes in a blur of TV shows. But dawn and dusk are very special times of the day, thresholds between this world and the Otherworld, as Joanna says. We should honour them all, don't you think?
As far as our own personal sunrises are concerned, when you are doing something that you love, you tend to zone out or enter Flow – isn't that a perfect way to experience the Otherworld?
Through the Child of Earth, we can celebrate our sunrise (in whichever form we recognise it) by allowing ourselves to be delighted and amazed by its existence in our lives. On a daily basis we can give thanks for all those things that light up our day.
Can we look at an apple and see it for the first time?
I hope that you have enjoyed your time here on This Game of Thrones and maybe you'll come back and visit me again. You might like to sign up for my Court Card newsletter so that we can keep in touch?
Next stop on the tarot blog hop trail…..
Feel free to hop backwards though the list to the lovely Louise at Priestess Tarot too!
And if any of the links are broken, please visit the Blog-Wrangler's master list!