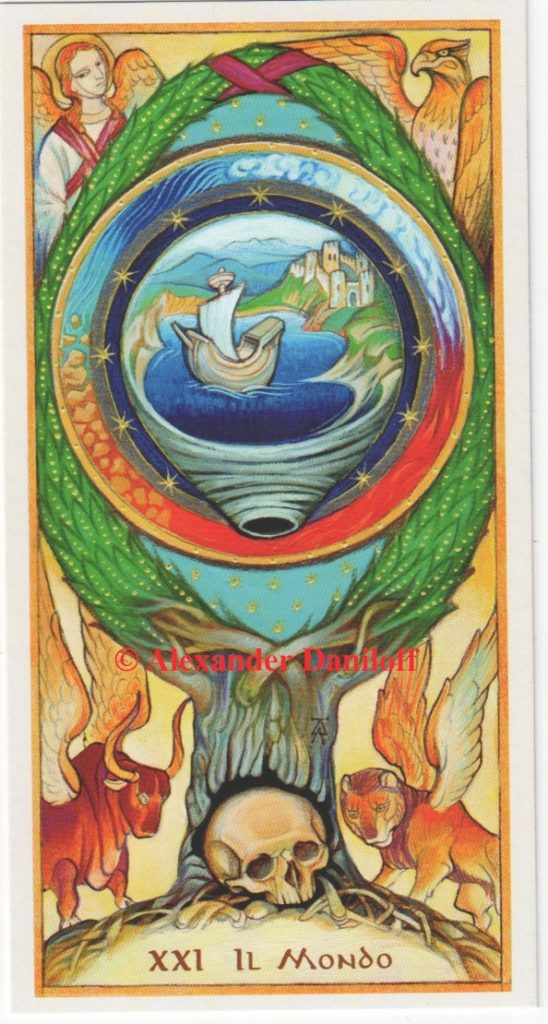 Please click on image to visit
Alexander's site
Tomorrow night is a lunar eclipse (28 November) – the last one until April 2013 – and it's a wonderful event to witness. What makes it very special, for me, is that hardly anyone looks up at the skies these days – perhaps lovers, foxes and those of us who have to travel by ferry 🙂 People are trudging home from the pub or work, usually looking at the ground….and I'm sitting in the garden hugging a mug of tea for warmth, staring at the sky.
During a lunar eclipse, the Earth's shadow falls across the face of the moon, turning her cool white face into a warm, earthy blush. The red moon is magnificent to see!
It's a humbling, awe-inspiring event, guaranteed to remind you that you are but a tiny speck on a big ball spinning in space!
Here's a fun spread to do during the eclipse.
Apologies to readers who are also members of the Glasgow Tarot Meet Up Group because they are already familiar with this 🙂
It's very easy:
1 Shuffle your cards whilst contemplating the thought: 'what energies are being eclipsed in my life?'
2 Complete your shuffle.
3 Turn your deck over so that the images are now facing you.
4 Flick through the cards until you find your World (or equivalent) card.
5 The card BEHIND the World is what you currently hold in shadow.
You can also expand upon it by adding in a Solar Eclipse element to the spread. As you search for your World card, also keep an eye open for The High Priestess card at the same time and locate the card directly behind her too.
Why the High Priestess? Well, The High Priestess is the card who represents the Moon, if you work with Astrology in your Tarot practice. So with THIS adjunct to the spread, we can find out what a Solar eclipse hides from us too.
You can further expand upon the spread by bringing in more cards – how can I bring this energy out of darkness? How will this energy benefit me? and so on.
*** Edit: info added: If the card you are seeking is right on the bottom of the pack, with nothing behind it, refer to the FIRST card on the top of the pile, as if they had been laid out in a circle.
I'll be working a Court Card variation of this spread tomorrow and posting on Thursday.
If you try the spread, I'd love to know how you get along with it 🙂