Paddling like mad?
So, I haven't fallen down some cunningly-disguised rabbit hole in the park. I'm still here, but still not quite mastering the juggling act that is required for my life right now.
Some people make it all look so seamlessly easy, but I wonder whether they are like swans – all glamour on the surface, but paddling like crazy beneath the water line:
Or maybe they've got a nanny. Or a woman that Comes In And Does.
I can live without a nanny – Sonshine goes to secondary school now. Although I admit there are some evenings when he sits plaintively next to the computer, willing me to drag myself away from the flickering blue screen and down to the kitchen to make some food.
Hmmm – maybe I should still consider a nanny.
A woman (or man!) who can clean and tidy? I would LOVE someone to come in and do the housework around me Like my mother, but without the attitude.
But here's the thing.
*whispers* I don't REALLY need one. If I could just learn to handle things in the right order, I'm pretty confident that I would stop wakening up at 3am worrying about how far behind I am with….EVERYTHING.
Y'see, I am very good at dealing with urgent things. But not terribly good at avoiding the urgent and UNIMPORTANT things. That's why you'll find me fiddling on Facebook while Rome metaphorically burns around me. Well, that's a bit dramatic – a stack of laundry with the dimensions of a small European country teeters precariously behind me.
So, today it's allllll about the time management. And the Courts, of course.
Using the DruidCraft Tarot deck:
THE TIME MANAGEMENT SPREAD
Dear Druidcraft I've got THREE questions for you:
1 WHO can possibly help me improve my time management?
2 HOW will this character help me improve my time management?
3 WHAT does this character warn me against?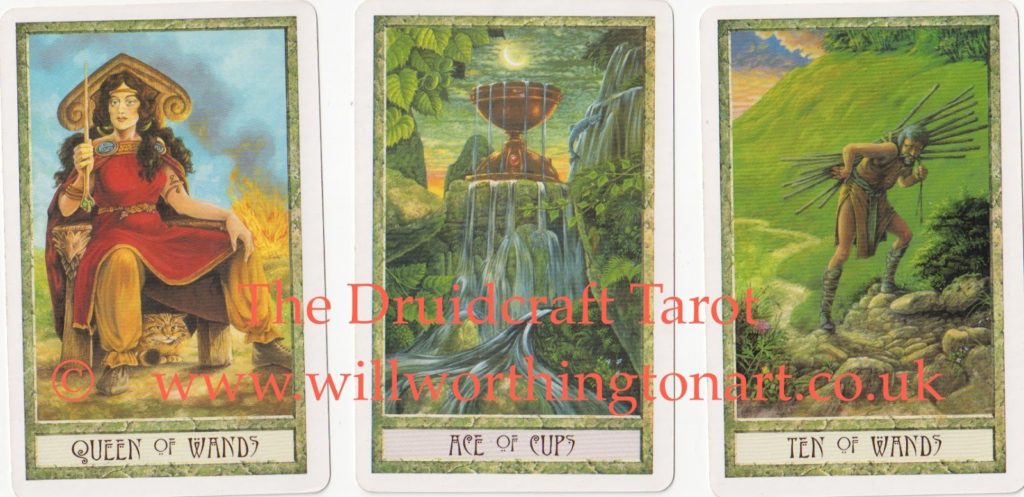 Card 1 – who helps me? (chosen from the 16 courts, randomly)
This is good, I like the Queen of Wands. But I'm feeling that she's literally here to put a rocket up my ass. Which is less good. Look at that Wand. Pointy. You don't want that anywhere near your ass. Look at that heavily-lidded expression. She's not about to take any of my limp-wristed excuses for continually fannying about, is she?
The fire that burns behind her is where I need to put my rubbish. And for 'rubbish' read 'most of what I do every day'. Do I REALLY need to read up every page posting to my time line on facebook? Do I REALLY need to read the conversations between magazine columnists on Twitter? No – I don't. Do I need to spend hours going over and over the Radio Bute Tarot Show? No, I don't. By all means get it done and get it sounding good, but don't agonise over every mangled vowel or stumbled word. Continue to edit out the frustrated profanity though 🙂
The Queen of Wands is all about taking action, but she's not rushing about like a mad thing is she? She's seated on her throne. This Queen knows how to get things done without getting caught up in BUSY.
I could certainly do with a dose of that.
Card 2: HOW does she help me? (chosen from rest of cards)
The Queen of Wands is going to help me by jabbing me with her Wand and reminding me of the importance of the Ace of Cups
The Cups suit is all about emotions and relationship. I think the key here is relationship. What is my relationship to what is taking up my time?
"Never allow someone to be your priority while allowing yourself to be their option."
Mark Twain




I think that I need to bear this in mind. What are the relationships that count? Focus on THEM.
Card 3: What does The Queen of Wands warn me against?
She warns me against a trait of her own suit – 10 of Wands – failing to handle my various 'Wands' properly. The guy in this card could easily carry that bundle – they're hardly heavy-looking. But he's turning it into a real meal because he's not sussed out how to handle them efficiently. Be efficient. I need to be efficient.
So – in summary – my time management can be improved by The Queen of Wands. Use her energies to discern what relationships are important to me AND matter to the other party too. That's where I should focus. Get efficient – it's not that I'm doing too much, I'm handling it badly. Get my bundle sorted out and all will be well.
Where are YOU not efficient in your life? Try the spread and see what comes up for you – I'd love to know whether it helps you!
……so a couple of hours have gone past since I did this reading and I've decided that my relationship HERE with YOU is important to me. We'll see what the Queen of Wands has got to say about that!