Imbolc Tarot Blog Hop | Fire in the belly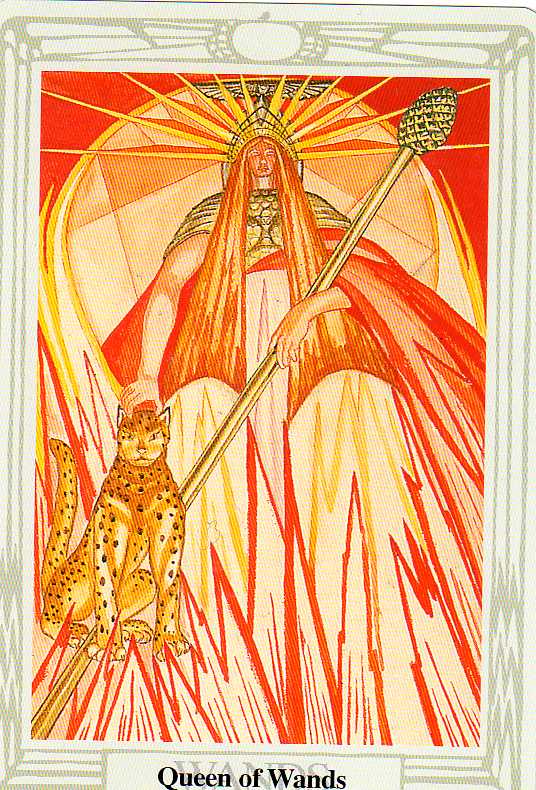 My inspiration!
The theme for Imbolc's Tarot bog hop is 'what is in your belly'.
If this is your first time to my blog, you are very welcome indeed. This Game of Thrones (AKA Tarot Thrones) focuses on the Tarot court cards and aims to make them fun and accessible. Come in and sit down *dusts down a comfy armchair and offers it*
You may have hopped here from Chloe's Celtic Lenormand or from Donna's blog.
So, what's in my Tarot belly for 2013?
So much! Too much maybe! Which Tarot Court has a lot of fire in her belly? The Queen of Wands!
The Queen of Wands says: It's not enough to simply have fire in your belly, you must birth it too! Set yourself – and the world! – on fire with your passions! She urges you to ignite, light and heat the world around you. Will you do that?
Here's how I plan to!
1 The Tarot Thrones blog!
I started this blog in 2012 and really enjoy writing it – although writing solely about the Tarot Courts can be taxing! If you know anyone who would like a little help with how to use tarot cards (courts especially!), I'd love it if you could point them in my direction. Also, if you have any questions that you would like me to tackle, just drop me a message and I'm happy to write something especially for you!
2 The Glasgow Tarot Meet Up Group!
I took over as Administrator for this group over a year ago and we have gone from an initial meeting of three people to 20+ regularly meeting up monthly to explore the wonderful world of Tarot. I deliver all the 2 hour sessions at the moment, but it is part of the fire in my belly for 2013 to organise a whole weekend of Tarot for the membership – speakers, authors, the whole nine yards! Now that we have found a spiritual home with the Glasgow Theosophical Society, I really feel that we can get something off the ground! Is that something that you would like to be involved in? If so, I'd love to hear from you.
3 Tarot website work
I am very lucky to work with some wonderful Tarot authors and artists, running their websites and assisting with their on-line presence. It would really stoke the creative fire in my belly to have some more Tarot or art orientated clients in 2013 as I love supporting their work and, of course, as a Tarotist I'm already in the zone as to what your requirements might be.
4 Tarot work!
I was the Chairman of the Tarot Association of The British Isles for over four years *twitches involuntarily* 🙂 Only joking, I loved it, of course, and always gave 110% effort – putting TABI's needs above my own, as far as Tarot work (and heck, yes, even my family in some instances!). In 2013 it's time for me to focus on my own career. Getting everything off the ground again isn't easy, but the Queen of Wands is a useful woman for prodding me!
I'm also booked to provide a session on Court Cards at Kim Arnold's UK Tarot Conference in October – which will be very exciting! I've lectured in Business Studies at college before and run a few conferences for TABI, but never been asked to speak at Tarot Conference before – so I'm really looking forward to that! Maybe even see you there?!
5 Tarot e-books!
Gone are the days when you had to have a publisher agree to take on your work – nowadays it's all about e-commerce and self-publishing. I've got lots of ideas for useful Tarot e-books, so that's a fire in my belly for 2013 too!
5 My own Oracle deck!
This last point is what fires me up the most about 2013. The greatest fire in my belly is to create my own Oracle deck. I've been in the Tarot world for 10 years now – a great many of them have involved reviewing and writing about Tarot books and decks. I've got pretty clear ideas about what makes a good working deck. And so I'm creating my own.
The research and writing part of the development is mostly done and I'm already blessed with an artist who is keen to be involved in the project – providing he can fit it in to his busy schedule! At the moment, the illustrations for the cards are just my own sketches, but a good artist will make it look a whole lot better!
So, that's the fire in my belly for Imbolc – what's the fire in YOUR belly, this Spring? Will you be able to do as the Queen of Wands commands?!
Hop to the other blogs in the chain!


Got lost? Here's the master list: http://tarotwitchery.blogspot.co.uk/2013/02/tarot-blog-hop-master-list.html