Lammas Blog Hop | From my table to the community
Welcome to the Lammas blog, where the theme set by our Wrangler, Arwen, is: "What can I share from my table to enrich my community?" If you're hopping forward, you've come from the lovely Ania Marczyk's blog and if you are hopping backwards (you TOTAL rebel, you!) you've come from the equally lovely Joanne Sprott's blog. And if your cat has randomly strolled across your computer keyboard and the Tarot Thrones blog has popped up on your screen…. well, just be grateful that I'm not a porn site 😀
So what can I share from my table to enrich the Tarot community?
Since Tarot Thrones is a blog all about the Court Cards of the Tarot, I got into a huddle with my 16 courtly colleagues to thrash out a few ideas. Reader, it got very heated. The Queens wanted me to teach something, the Kings wanted me to DO something, the Knights wanted me to be daring and bold and the Pages? Well, the Pages just went outside to play.
Then I had an idea. I made my suggestion and the Kings and Queens murmured their agreement and happily headed off down the pub to give me peace and quiet to write. So here's my Lammas Blog Hop gift to you:
When you are buying a new Tarot deck, how do you choose it? Do you have a few favourite cards that you inspect? Do you run your hands expertly over The Star's fetlocks to see if she shapes up to your perfect Star? Do you inspect the teeth of The Devil to make sure he's someone that you can work with or do you take The Lovers for a quick canter around the paddock?
Well, here's a suggestion from ME to YOU: Why not take a look at the Court Cards to see whether you can work with THEM? After all, they tend to be the section of the Tarot that readers tend to frown around – why not make sure that the Courts are guys that you are comfortable with?
Radical, eh?
So here are my Top 7 bits of advice for expertly checking out the Tarot Court in a new deck:
1 The most important thing in the Courts, for me, is symbolism – what is there for you to work with? Plenty of symbols will give you plenty of pegs on which to pin your ideas about the Court Card and lots of things to talk about in your reading. Check also for consistency – do all the Knights have some kind of steed, for example. If not – why not? Can you see why the Knight of Pentacles might be left to labour along on foot….or does it show a lack of thought about what the Courts represent? Are all the Queens wearing shoes, except one? Why might the Queen of Cups go barefoot and the Queen of Swords wear shoes that are tightly laced? Does it make sense to you?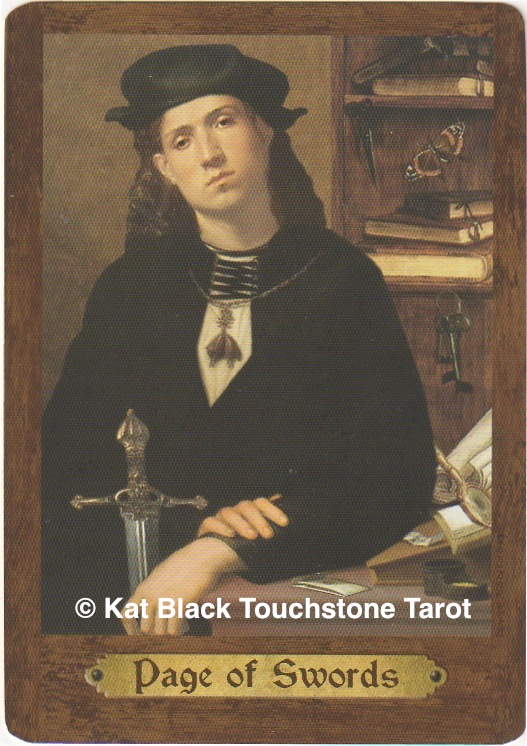 Tons of symbolism, nice setting, expressive character and suit colour-themed
2 The next most important thing is
Setting
– are the Courts active in some kind of scene? For me this is important because it helps with the story-telling aspect of your reading. What direction are they heading? What are they DOING? What are they looking at/turning their back on?
It seems to me that people struggle with the courts because they seem to punch holes in the flow of your story-telling much more so than the Majors or Minors, so any setting that allows you to incorporate the Courts into your story is a Good Thing.
3 Character – this covers a lot of ground – if the characters are expressive, clearly delineating a personality type by their expression or pose, then this helps you work with them. Someone bent over and tired-looking has easily got a completely different message from a sprightly young Page.
4 Sex – is there an equal balance of male and female characters? Are they all women? All men? Are they animals/birds? Is that what you want?
5
Rank
– how are the Courts ranked? Straightforward Page (Princess)/Knight/Queen/King ares traditional and, for me, easier to work with than an entirely new combination like Lightbringer/Demon/Sprite and Soul where it's not clear which rank trumps the others and how progress is made – you have got some additional learning to do. And does that learning conflict or support what you already know about Ranks in your other decks?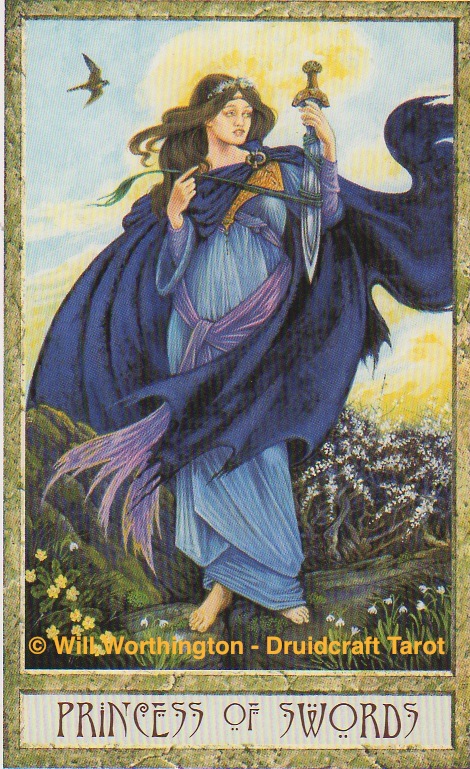 A Princess to replace the Page, nice setting, symbolism, suit attributes
6 Colour – this could form part of symbolism – do the suits have colours? Are those colours pulled through into the Courts? If they are, it might make it easier for you to incorporate suit traits into your story? Do those colours represent the elemental associations that you'd expect? If not, will that affect your use of elements in this deck?
7 Astrological information etc – some decks have information from other systems built in to their Courts which makes it a danged sight easier to talk about, for example, astrological traits instead of having to memorise the associations!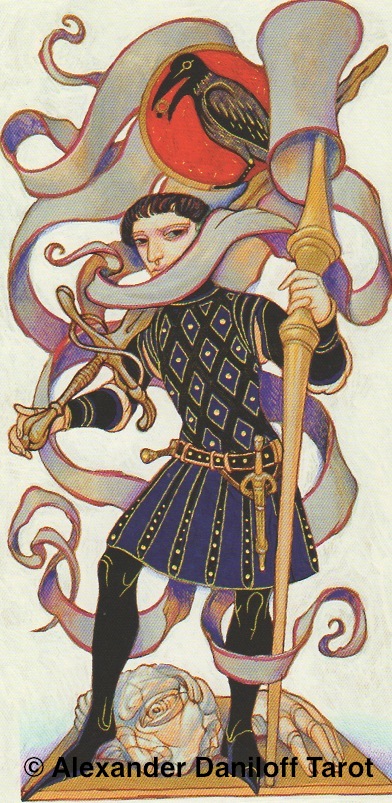 The black-clad Ninja with his sneaky expression and his heuuuuge hidden sword
The other Courts have astrological associations clearly illustrated – result!
Of course, this isn't a complete list, and they don't ALL have to be present in every deck's court, but these are just some of the main prompts that will help you find easy to work with Courts.
Now, if you'll excuse me, I'm off to run my hands expertly over the haunches of the Knight of Wands ;-D