Comparative Tarot | Page of Wands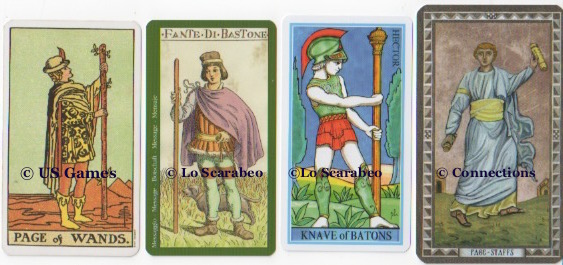 We began this Comparative Tarot session with a look at the Page of Swords, over three decks. Today we look at the Page of Wands, trying to find common ground and extend our perceptions as to what he might mean in the decks that we use ourselves.
On the left we have the RWS Page of Wands, then the Fante Di Bastone from the Tarot of The Master (ToTM), the Knave of Batons from Dame Fortune's Tarot Wheel and finally the Page of Staffs from The Byzantine Tarot.
In the RWS we have a cloaked-up young man standing in an arid landscape. He must be roasting hot in his hat and cloak! He gazes intently at his sprouting Wand. Pyramids line the horizon to the right of the card.

The Fante stands dressed in his travelling clothes, his Wand held like a walking stick, his cloak pulled around him and his little dog companion on a leash behind him.
The Knave of Batons is named Hector in the Dame Fortune deck. He looks martial with his helmet, breast plate and shin protectors. Yet he has no sword or shield. He too stands in a landscape, focussed on the Wand.
The Byzantine Page is out of his office and hurries over the grass, bearing scrolls in his hands.
We know that Pages stand for smallness, messages and newness … but what do the Pages creators say about them?
In A E Waite's 'Pictorial Key To The Tarot' he writes of the Page of Wands: "Dark young man, faithful, a lover, an envoy, a postman….He may signify family intelligence". Clearly missing in the Donald Trump family, I think.
The ToTM Fante is marked with the keyword 'Message' and the Little White Book (LWB) that accompanies the deck adds little to what we can see, stating only that the rural aspect of the Wands is clearly seen in the Fante.
Hector's LWB entry states: "A stranger. Hector, prince of Troy. An unknown person, something extraordinary, admirable. A messenger for a powerful man."
The Byzantine's Page information comes from a good-sized accompanying book that comes with the deck. The key words are: "A Prodigy, A Stranger, an Emissary, Surprise, Naivety, Faithfulness, Tidings – good and bad".
The common elements seem to be faithfulness, foreignness and a messenger of some sort (either delivery or ambassadorial)
How can we link all this together?
The RWS Page is clearly wearing the wrong clothes for his environment, so he's HERE from somewhere else? And if you are visiting, you are a stranger and a foreigner … and you could be acting on someone's behalf or delivering a message?
The Fante is dressed for travel, with his cloak slung around his shoulders and his sturdy boots on. Again – travel, foreignness … maybe he is waiting for the letter he must deliver. We also clearly see this idea of faithfulness in the shape of his dog. Dogs are often associated with fidelity.
Hector was, according to Homer a thoughtful, heroic chap – so we can see the 'admirable' qualities that his LWB talks about. Interestingly, on Wiki I read that author James Redfield describes him as a 'martyr to loyalties..' Also, according to Wiki, his name, Hector could mean 'hold fast' so here we have two ways that he is associated with loyalty and fidelity.
Although I don't think he was noted for being a messenger (please let me know if this is a wrong assumption on my part!) he is dressed in armour, but not in a battle. So, like the RWS he is here from somewhere else – so a foreigner and stranger 🙂
The Byzantine Page of Staffs is clearly delivering messages. More usually found in the confines of the office, this Page is outside his usual enviroment, just as much as the RWS Page and Hector – so again we can infer foreignness and being a stranger.
So there we have it – by looking at four Pages of Wands we can see that they are messengers, strangers abroad, faithful and admirable.
How do YOU interpret the Page of Wands?
Like the look of these cards? ….