Hello and welcome to the first ever post on my tarot court card blog!
Glad that you found your way here! It was a bit of a struggle for me too – does the world need yet another Tarot blog?!  Well, we'll soon see 🙂
Hopefully you're here because you want to expand on what you know about Court Cards…. and are up for a bit of fun at their expense too!  If you came here looking for the latest gen on the Lannisters and the Starks, you're in the wrong place.  That's the OTHER Game of Thrones.  It's not as much fun as THIS one is going to be…….
There have been some birthing pangs with this blog – and I'm sure that I've got some changes to make over the next few days – but like any other proud parent, I got a free natal chart from Astrolab:
Happy birthday,  This Game of Thrones!  So which Court Card could represent the blog – based on the moon, sun and rising sign?
ASTROLAB NATAL CHART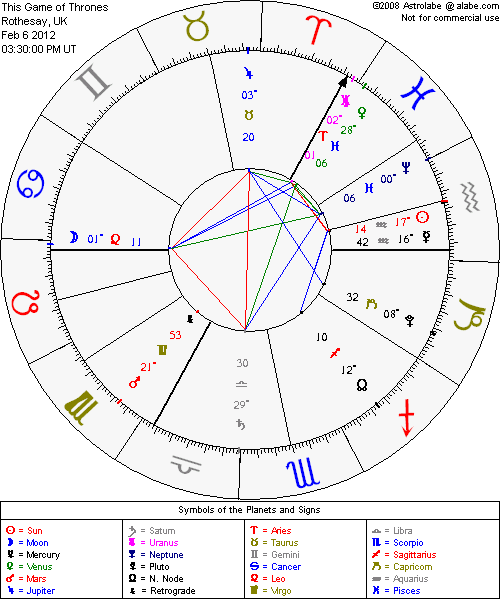 Name: This Game of Thrones
February 6 2012
3:30 PM Time Zone is UT
Rothesay, UK
Rising Sign is in 02 Degrees Leo
Tarot Thrones – you love to be the center of attention and you want to appear strong, confident and dominant. You are very proud of yourself, sometimes quite vain even. When all around you are bedraggled and falling apart, you look like a million bucks! Very dignified and honorable, you enjoy the power and privilege, but not the responsibilities, that come with leadership. You are very idealistic but can also be quite stubborn. Others impress you only if they have integrity (but wealth, power and influence can also turn your head). You prefer rich, elegant surroundings and possessions, and will try to acquire them as your budget allows. Physically, you are very impressive – – at your best you have a regal, charismatic demeanor and bearing. Try not to be such a showoff!
Sun is in 17 Degrees Aquarius.
You get bored with the status quo and are generally open to new things and ideas. An individualist and a free spirit, your friends are quite important to you as long as they do not try to tie you down by making too many emotional demands on you. Your thoughts are offbeat and you're a bit eccentric, but not always very changeable. As a matter of fact, you can be quite stubborn at times. Very fair-minded when dealing with large groups or broad issues, you are not always emotionally sensitive to the needs of individuals. Extremely objective, with good powers of observation, you would be qualified to study technical and complicated subjects, like science, computers or maybe even astrology.
Moon is in 01 Degrees Leo.
TT,  always want to be proud of yourself and will never do anything that will make yourself look bad. You need the respect and admiration of others and enjoy attracting attention to yourself. Everything you do tends to be self-emphasized and self-exaggerated. Very stubborn, willful and independent yourself, be sure to allow others who are close to you the similar right to "be themselves." Your need for love, affection and reassurance, and your tendency toward vanity, allow you to have your head easily turned by flattery. The more insecure you are, the more you tend to be a showoff. You love games and sports as a matter of fact, you would usually rather play than work. Be careful of a tendency to be snobbish and uppity — it does not become you.
Mercury is in 16 Degrees Aquarius.
And you tend to be very opinionated — you have strongly felt notions about things and are quite vocal about expressing and defending them. Yet you are also an original thinker — you enjoy shocking others with your offbeat, original thoughts. You appreciate and need mental and intellectual stimulation. Your judgment is usually fair and impartial — you can be a good critic because you can remain objective and unemotional about most things.
Venus is in 28 Degrees Pisces.
This shows that you have a dreamy, fanciful, romantic nature and a very creative imagination. Indeed, at times, your private fantasies are more appealing than the reality around you and it is difficult for you to leave them. You tend to be unselfish and giving in relationships and are extremely sensitive of the needs of others. Be very sure that those you help are worthy of your devotion and are not merely taking advantage of your innocence and naivete.
Mars is in 21 Degrees Virgo.
Very careful and systematic, you pay great attention to details. You are always seeking perfection and sometimes get bogged down searching for the ultimate when adequacy would have been sufficient. You dislike abstractions, preferring whatever is practical, useful and demonstrable. You have a strong and enduring sense of personal responsibility, and you demand that others be as responsible and upright as you are. Very critical of yourself and others, sometimes you carry this too far and become overly intolerant of others and their right to choose their own lifestyles.
Jupiter is in 03 Degrees Taurus.
Growth only occurs for you after you have found a stable lifestyle and a dependable, protective and secure environment. You are at your best when those around you provide you with a great deal of affection and support. When you feel insecure or threatened, you tend to become possessive and grasping and self- indulgent. You are an inveterate collector with an expensive preference for all the good things that life has to offer.
Saturn is in 29 Degrees Libra.
Although you take quite a while to make decisions, you usually consider all sides to a question, all the pros and cons, and the solution you come up with is very often the correct one. You tend to be very reserved and shy, but, once you make a commitment to someone (in either a business or personal relationship), the partnership is forever. You have a strong sense of justice and fair play and greatly respect the laws and institutions by which you are governed. As such, you are outraged when others break laws or show contempt for authority.
Uranus is in 02 Degrees Aries.
For you, as well as for the rest of your peers, the issue of personal freedom is not just an abstract issue that can be discussed and then forgotten. You feel very deeply the loss or threat of loss of your ability to remain unrestricted and independent. And you will react vigorously and vociferously to defend your right of self-expression, no matter what the cost.
Neptune is in 00 Degrees Pisces.
You, and your entire generation, are interested in ways of expanding your consciousness beyond the level of everyday reality. You will explore exotic religions and metaphysical studies that purport to transcend the mundane. You will prepare the theoretical base of studies that will be fulfilled by the drive, energy and initiative of the following generation. the Moon's Node in the 12 signs.
Pluto is in 08 Degrees Capricorn.
For your entire generation, this is a period of intense changes in the very fabric of society. Many accepted institutions may pass away or be born anew. The good of the community as a whole will be stressed and individual rights may come under attack. This will possibly be a period of decay that will lead to a new order.
N. Node is in 12 Degrees Sagittarius.
You will probably have many different contacts and acquaintances throughout your life. You're quite gregarious by nature and your natural curiosity about others lets you take the lead in forming new relationships. You'll form close ties with those who have similarly idealistic ideas — especially those who can stimulate you intellectually in your chosen field of interest. Your enthusiasm for learning new things may also cause you to do quite a bit of traveling. Because you probably will have many wide-ranging interests and concerns, you most likely will have contacts and connections in various parts of the country (or world). 




What do you think? Isn't that N Node Sagittarius link looking auspicious for a new blog?!