TABI Tarot Conference | The Day!
As one of the organisers, you need to be up bright and early to make sure that all is going according to plan. Witness the breakfast table at 8am: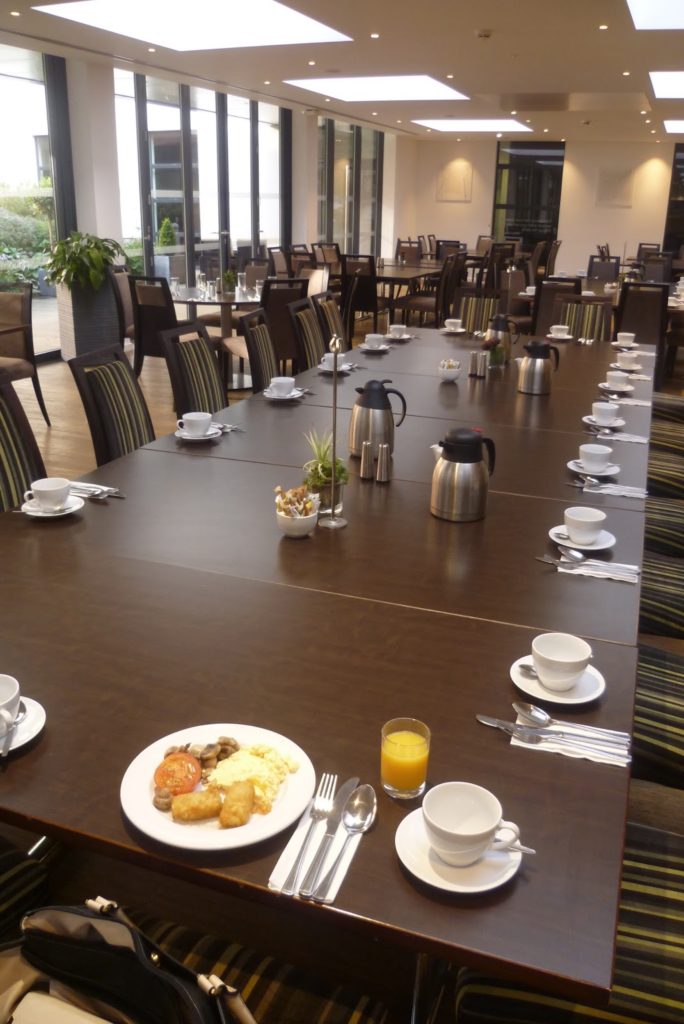 Late night in bar = this breakfast table
Yes, that's my lonesome plate of food 😀
Anyway, Caroline materialised soon afterwards and we started to get the show on the road. Caroline manned the check-in desk and I manned the Conference room.
Every year we are supported by various publishers in our goody bags for attendees. This year we had help from PGUK, Eddison Books, Schiffer and Carrie Paris (although Carrie's Siren's Song Lenormand is still getting printed!)
We had lots of lovely attendees this year. In fact we sold out of places! We were joined by Kim Arnold (London) and Kirsten Buchholzer (Verbandes Tarot e V – Germany)… Barbie Davidson and Linda Marson (Australia) and Rashunda Tramble (Switzerland) …. along with the many other well-travelled TABI members!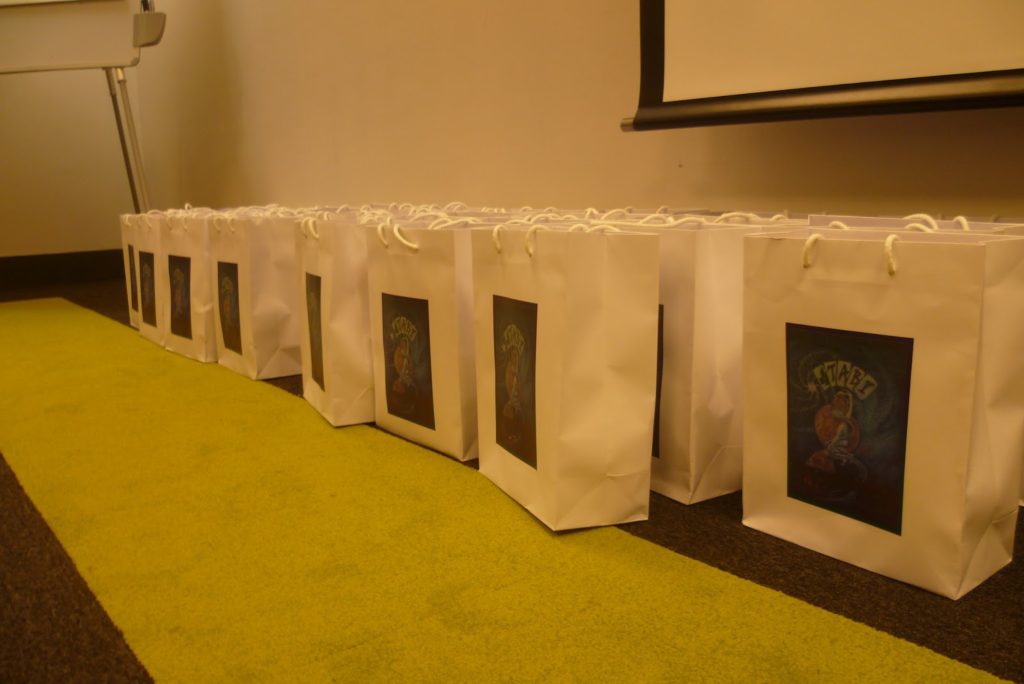 Goody bags – with TABI branding on the front.
I *know* super posh
Our first speaker was Karen Mahony from Baba Studio and she began with a presentation about their move to Kerry from Prague and the work of the studio. She then moved on to talking about working with the Majors and the Minors and gave us a couple of spreads to demonstrate: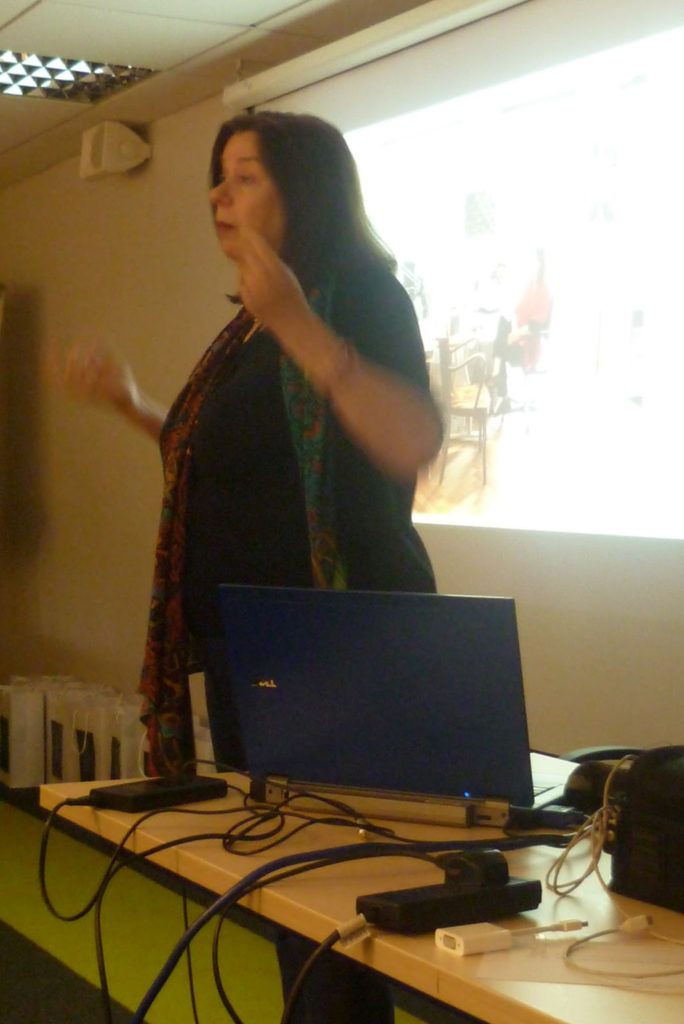 Karen Mahony | Baba Studio
ps – see that li'l white adapter on the table ….
that was the source of ALL my worries the previous day
God bless the lad at the Apple Store 😀
It was then the turn of long-time TABI member and creator of the Celtic Lenormand Oracle, Chloe McCracken. She took us on a journey through working with a pendulum and the chakras… and the Tarot!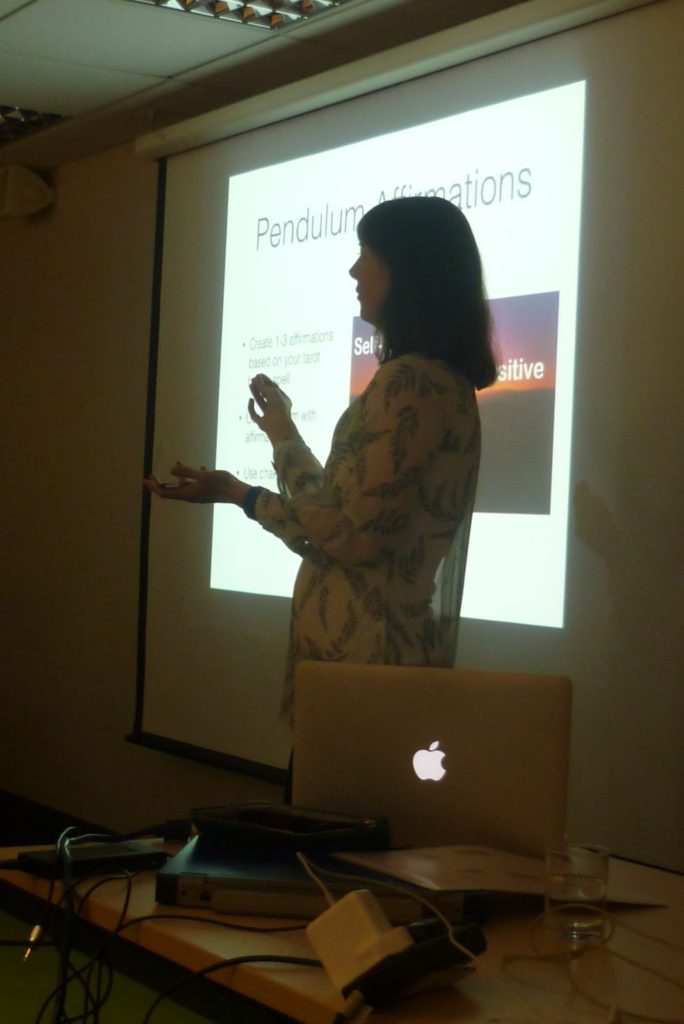 Chloe McCracken | Pendulum work
Now it was lunch time and everyone piled back into the dining room for a self-service that let you stock up on whatever you wanted with as many revisits to the food bar as you needed! And dessert!!
After lunch it was over to Emily Carding to explore the use of Tarot and Sigils. Drawing from the ability to create compound images with her Transparent Tarot and Oracle, we set out to explore making sigils using standard tarot cards. With an amazing ritual at the end of the workshop, we had a blast!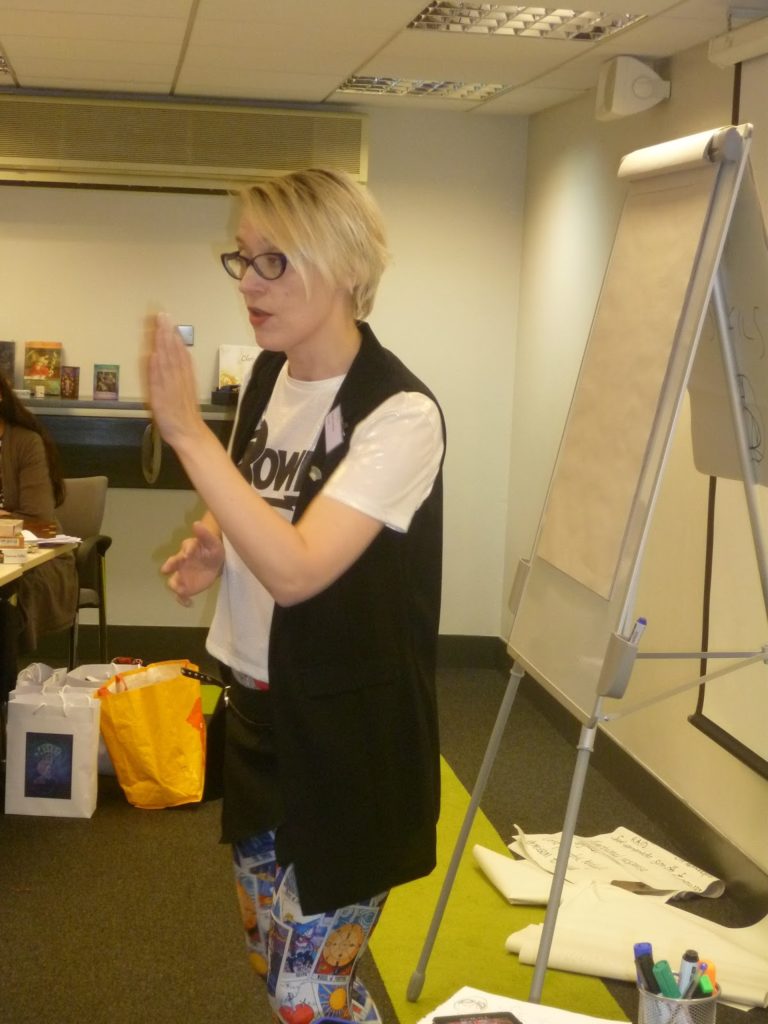 Emily Carding | Tarot and Sigils
At afternoon coffee break we drew the raffle – with the top prizes being our kickstarter copy of Andrea Aste's Book of Shadows Tarot and a silk scarf kindly donated by Karen, from Baba Studio. I, of course, won absolutely nothing. I never win ANYTHING in raffles 😀
Then it was the turn of our last speaker, Julia Jeffrey who had accompanied me down from Glasgow. Julia is the creator of The Tarot of the Hidden Realm and we had the opportunity to work with her beautiful deck, exploring various Hidden Realm spreads.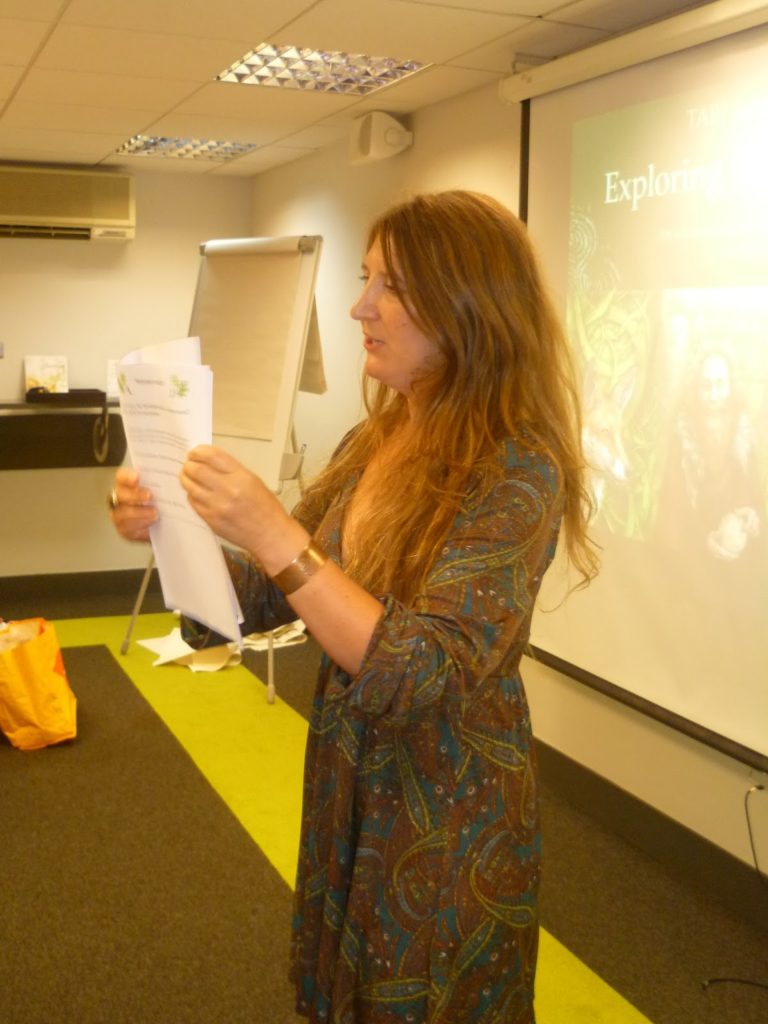 Julia Jeffrey | Tarot of the Hidden Realm
And suddenly it was allllll over! I presented Caroline with a well-deserved art voucher for all her work – double-deserved given that all the things I had volunteered to do to take some of the weight off her, I ended up leaving back at home in my computer bag. And Caroline, bless her cotton socks, on behalf of TABI gave me a lovely voucher for Bute School of Art – which I will very much look forward to using!!
For almost everyone it was over, but for us travelling back to Glasgow, we had one more night in Aston and then home. And what a lovely evening that turned out to be – both our Australian attendees, Linda and Barbie, were there, as was Rashunda our attendee who was flying back to Switzerland on the Sunday. We had a lovely …. and slightly irreverent … bar meal and glass or two of wine to unwind.
And then on Sunday, it was the long (and not uneventful) drive back up the M6, the M74, the M8, the ferry …….. and home 🙂
See you next year!